If you collect Japanese vintage watches or chronograph watches, chances are you've stumbled upon a Seiko 7018 at least once. This chronograph watch is famous for its ultra-slim profile and its fly-back function.
Let's talk about how the Seiko 7018 fits into the history of the brand and explore its features and designs in our detailed guide.
The history of the Seiko 7018
The history of the Seiko 7018 arguably starts clear back in 1964 with the release of the 5717/5719 movement, which was the first wrist chronograph developed in Japan for the mass-market. A few years later in 1967, the company went to work on Caliber 6138 and Caliber 6139, both of which were designed to be self-winding.
Now, something else that is important to know if you don't already is that Seiko split into two independent subsidiaries back in 1959: Suwa Seikosha and Daini Seikosha.
The purpose in doing this was to promote competition from within. The two subsidiaries were constantly trying to get an edge over each other, but in both cases, the beneficiary would be Seiko (and, of course, the watch-buying public).
As it turned out, it worked. Seiko's internal competition and somewhat counterintuitive approach of the left hand and the right deliberately not being in communication with each other led to some astonishing developments, and helped the company be competitive internationally as well.
While you are probably more familiar with Suwa's watches (in particular 6138 and 6139 chronographs), Daini Seikosha produced some impressive timepieces as well. And that brings us around to the Caliber 7017, the timepiece directly preceding the Seiko 7018. Measuring only 5.9 mm in thickness, it featured the slimmest automatic chronograph movement worldwide when it came out in 1970. It maintained that record until 1987, when it was finally overturned by the 1185 from Frederic Piguet, which had a measurement of 5.5mm.
Following the Caliber 7017, Seiko created the Caliber 7015, the Caliber 7016, and the watch we are focusing on today, the Caliber 7018.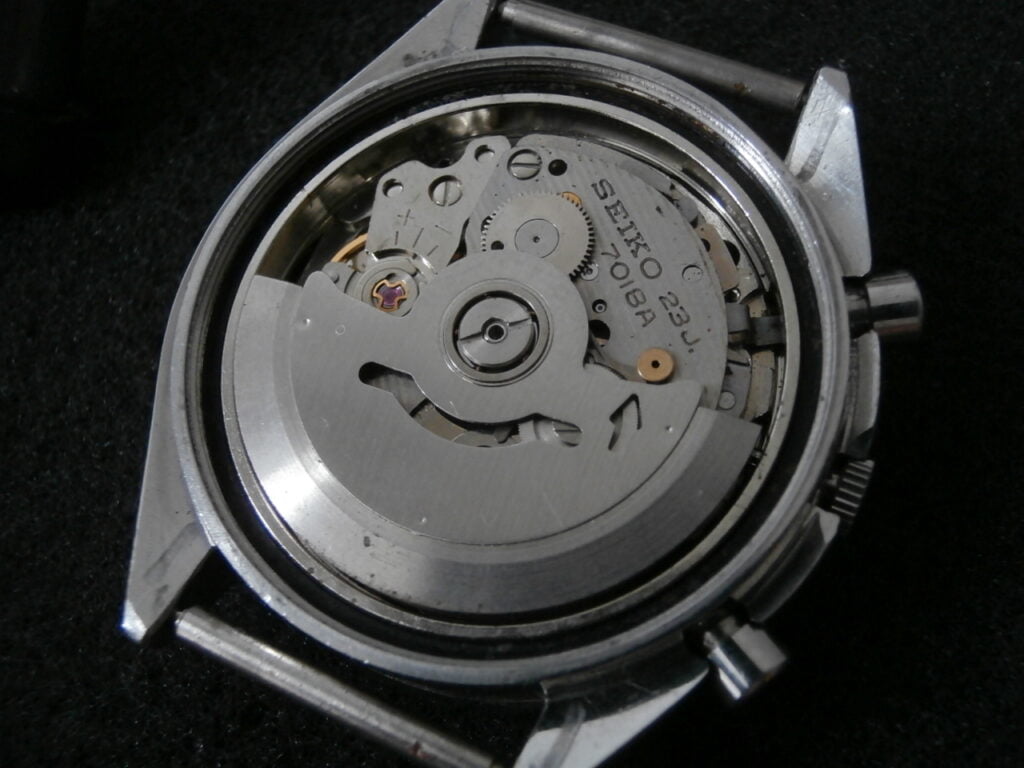 The fly-back chronograph Caliber 7018 came out a year after the 7017, hitting the market in 1971. Like the watch that came before it, the movement was only 5.9mm thick but had an additional 30-minute counter. The 7018 beats at 21,600 bph, does not hack and does not allow manual winding.
Nothing in this movement is wasted. Everything is built around pure functionality. The work that Daini did to streamline the movement over the course of the 60s was what paid off in terms of a more compact, slender movement for the Seiko 7018. Unnecessary and redundant parts were eliminated, and the configuration of those which remained was optimized.
As mentioned before, the fly-back function of the chronograph is one of the distinguishing features of the 7018. With most chronographs, you have to push a button to stop, push another button to reset, and then push the first one again to start. If you need to take repeated measurements, this can get to be a hassle. But with the fly-back function on the 7018, just one push of the button automatically executes all three functions. This can save time when you need to use the chronograph and make it simpler to take the readings you need.
Models powered by the Seiko 7018 movement
Unlike 6139, there's not a myriad design options when it comes to the 7018 chronograph. However, all of them have their own personality and are a great addition to any collection. I particularly like the pandas which make excellent dress watches thanks to their slender profile. Unfortunately, the Monaco (-5000) and the Time Sonar (-6000) are particularly rare, so reference information is scarce. Thankfully, the One-Eyed Pandas (-7000 and -8000) come up for sale more frequently.
Seiko 7018-5000 "Monaco"
You may have seen a vintage Seiko chronograph with a rectangular case, and most likely it was powered by another movement from the 701X family: the 7016. There are quite a few different dial designs in that line and they are usually known as "Seiko Monaco". That's not the only Monaco by Seiko though. There were also a couple of models equipped with the caliber we're covering today, the 7018.
Available with either a blue or a white dial, these watches feature a timeless design. I couldn't find them in catalogs or brochures. According to the casebacks I've observed, it looks like these watches, bearing model numbers 7018-5000 and 7018-5001 (I couldn't find any differences between 5000/5001), were made in 1972. The original bracelet for the blue model has the code XGB 141. I can't confirm whether the white model, which is the rarest of the two, had the same bracelet.
Seiko 7018-5000 "Monaco" Blue Dial (NOS condition) / Source: antiwatchman.com
Seiko 7018-6000 "Time Sonar"
The "Time Sonar" has some very original features for its era. Display caseback, hands without lume and an almost helmet-shaped case with beautiful factory finishing make it quite unique. Another exclusive feature of this watch is that the dial code is written below "Time Sonar" at 9 o'clock instead of the usual location at 6 o'clock. The second hand may be red, orange or yellow – and the color of the marker at 12 o'clock should match the second hand.
According to the History of the Seiko Speedtimer book, these watches were available with either a metal or a urethane bracelet, and were equipped with a compass: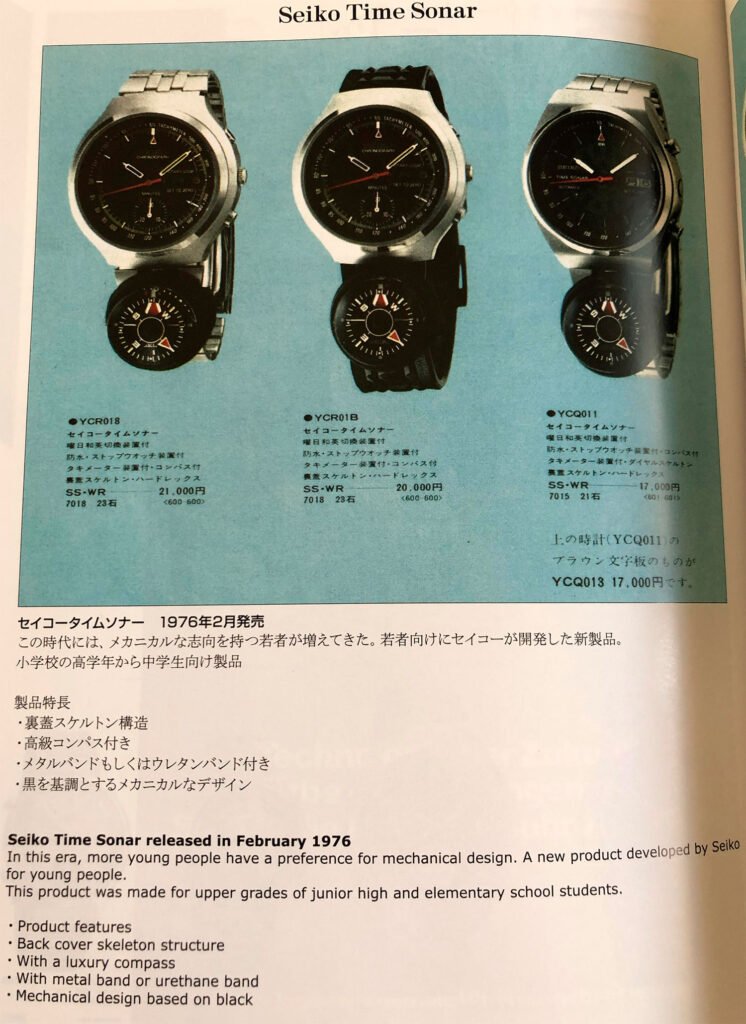 The Time Sonars had a MSRP of 21,000 / 20,000 yen.
Mint specimens are very difficult to find (I've seen only two for sale in the recent years). Expect to pay around $1,000 for a good condition 7018-6000.
Seiko 7018-7000 & 7018-8000 "One-Eyed Panda"
This is probably the design truly associated with the 7018 movement. Not as rare as the first two watches presented in this article, the One-Eyed Panda is a favorite among collectors who appreciate its clean design, gorgeous original bracelet, and the perfect size. I am lucky to own three watches with this design and they are definitely a staple in my collection of vintage Seikos.
Model numbers, release dates, MSRP
You will find two model numbers for the One-Eyed Pandas:
7018-7000 (and 7018-7001)
7018-8000 (and 7018-8001)
There are subtle differences between -7000 and -8000 that will be described below. On the other hand, I don't think there are differences between cases -7000 and -7001, as well as between -8000 and -8001.
According to my caseback observations, these watches were produced between 1971 and 1972, although they only disappeared from the catalogs in the late 70s.
The 7018-7000 retailed for 25,000 yen whereas the 7018-8000 cost 23,000 yen. Back in the day, it was equal to around $80-90. Taking into account inflation since 1972, we're talking about roughly $525 in today's money.
In the catalogs
These watches appear in the 1972 catalogs and disappear in 1977.
Seiko 7018-7000 and 7018-8000 in the catalogs
Case
That's the main and the most visibile difference between references -7000 and -8000. These watches are housed in different cases. The differences are not that easy to describe and are the most visible at the lugs. Have a look at the side-by-side pictures.
That -7000 case looks like a smaller version of the 6138 Panda, that's probably why I like it so much.
Both cases are 37.5mm wide and feature a lug width of 18mm. The -7000 is 40mm lug-to-lug, whereas the -8000 is a little bigger, with a lug-to-lug of 42.5mm. Note that the crystal on the -8000 in the picture above is a replacement.
Dial, hands, dial codes
There are two color schemes for the dial:
Black dial with a white/silver subdial: only available with reference number 7018-7000/7001.
White/silver dial with a black subdial: available with reference numbers 7018-7000/7001 and 7018-8000/8001.
The black dial Seiko 7018-7000 is the rarest of the three according to my observations.
The dial codes are located between 6 and 7 o'clock and between 5 and 6 o'clock. The first one always says "JAPAN 7018". The second one, the dial reference number, can be "-7000S", "-7001S", "-8000S" or "-8001S". As would be expected, cases 7000 and 7001 house dials numbered 7000S and 7001S, whereas cases 8000 and 8001 have dials numbered 8000S and 8001S. However, they don't necessarily match: I've seen a 7018-7000 with a dial number 7018-7001S or a 7018-8000 with a dial number 7018-8001S. Below is a gallery with different dial variations:
Seiko 7018 dial variations
As you can see, these dials share a lot of similar design elements: an applied "SEIKO" at 12 o'clock, "CHRONOGRAPH" printed below, a chromed frame for the day of the week and the date, a Daini sign above the sub-dial, and "AUTOMATIC 23 JEWELS" at 9 o'clock. There are some subtle differences when it comes to the chromed hour and minute hands though:
On black dial 7018-700X versions, hour and minute hands have lume and some white paint.
On white dial 7018-700X versions, hour and minute hands have lume and some black paint.
On white dial 7018-800X versions, hour and minute hands have lume and no paint at all.
Same paint pattern is observed for hour markers.
Another notable difference is the inner bezel: on Seiko 7018-700X it goes from 0 to 60, whereas on 7018-800X it goes from 0 to 100. Subdial fonts are also slightly different: numbers seem to be printed in a different, larger font on 800X subdials.
And the last design difference that I identified is related to dial codes: if you observe these dials carefully, you'll notice that on dials numbered 7001S and 8001S the sub-dial droplet hand is significantly larger than on dials 7000S and 8000S.
Bracelet
Bracelets are different for -7000 and -8000.
The bracelet for the Seiko 7018-7000 bears the reference XLB 041. In my opinion, this is one of the most beautiful bracelets you can find on vintage Seikos. Quite often, it's short and there are no spare links. In this case you will need a bracelet extender.
Original bracelet "XLB 041" for the Seiko 7018-7000
Seiko 7018-8000 was equipped with the bracelet XGB 111:
Crystal
The crystal for the 7018-700X is a specific V-type bonded (wondering what this means? read this) hardlex and bears the reference 300V11GN. The original part is very hard to come by, but you may want to have a look at this thread for a possible replacement. Generic crystal can also be used: in this case it will need to be glued to the crystal ring.
Seiko 7018-8000 had an acrylic crystal with reference 310T35AN.
Caseback
The caseback is always horseshoe-style and has the following markings: "SEIKO", the Daini sign, "Stainless Steel", model number, "Water Resistant", 6-digit serial number and "Japan-A" for Seiko 7018-700X or "Japan-G" for Seiko 7018-800X. Japan-A / Japan-G are case manufacturer codes.
Buying a Seiko 7018: the quick checklist
Ready to buy a 7018-7000 or 7018-8000? Here is a checklist that you can use:
Make sure you have clear pictures of the dial, the caseback, the movement, the sides of the case and the bracelet clasp. Ask for additional pictures if necessary.
Case: check if there are any serious dings on the case and whether it's been polished.
Bracelet: one of the most important points. Is the bracelet original? Finding a spare bracelet (or even an extra link!) is close to impossible, so pay extra attention to the length of the bracelet.
Dial: make sure the dial is clean, not damaged and not discolored. Has the lume on the markers and hands turned completely dark because of the moisture? Better pass on these ones.
Hands: compare the hands with pictures from this guide. Make sure they are original.
Movement: make sure it doesn't show any corrosion / rust / humidity marks. What's the service history? Do all the functions work as expected? Does the second hand return to zero? If some of the functions don't work (e.g. chrono doesn't start), repair may be expensive. On the other hand, if the only issue is sticking pushers, this is usually no big deal.
Interested in a Seiko 7018?
Seiko 7018
Use this reference guide to purchase a legit Seiko 7018. These watches are quite rare, so you may need to be extra patient.
Wrapping up
I hope that you found this guide about the Seiko 7018 models useful. I tried to make it as complete as possible, but there's admittedly little information about these online and I am by no means a Seiko expert – if you notice some discrepancies or have something to add (perhaps some ads or brochures with Seiko 7018?), please do not hesitate to do so and leave a comment or send me an email.
Further reading : check out our vintage Seiko reference guides
Dennis is the founder and editor of Vintage Watch Inc. Passionate about Soviet and Japanese vintage timepieces and a finance professional by day, he proudly wears a Seiko Pogue with his suit.