Citizen is known for producing quality watches at attainable prices. They aren't known for luxury watches, but they aren't perceived as a "cheap" brand either. Citizen fills the ever-important middle-ground where people want high quality, nice looking watches that are dead-on accurate but without breaking the bank and paying a fortune just because of a fancy brand name.
The name "Citizen" itself is genius in that sense, it helps to resonate the fact that that this is a watch created for the people.
From Switzerland to Japan
Citizen itself came to fruition in 1930, however they claim a 100+ year history due to taking over the Shokosha Watch Research Institute which was founded in 1918. Investors from Japan and Switzerland came together to create the Citizen watch brand as we know it today.
Watches for Every Citizen
Citizen wants watches to be accessible and not intimidating. Affordable, functional, long-lasting, and low-maintenance are some of the things that Citizen, and other Japanese watches such as Seiko, aim for.
ABlogToWatch points out the phenomenon that many people take Japanese watches for granted. They're known for making affordable, quality timepieces, but then when a higher-end model Japanese watch comes along, some people will scoff and say "I wouldn't pay that much for a Japanese watch."
Citizen has seemingly managed to navigate away from this trap, being a generally well-respected brand and not having the "cheap" image that certain other watchmakers get tagged with. Their ability to control the entire manufacturing process likely helps with this, allowing Citizen to control costs while also drastically outshining many, many other watches in the same price categories.
Beyond Watches
In addition to watches, Citizen makes a number of other small electronics, most notably their calculators. From smaller pocket calculators, to desk-calculators that print onto paper, Citizen applies their same philosophies of quality and performance to everything they make. While calculators are being replaced by software in many cases, Citizen continues to produce and sell them around the world. When you have a device that can do 1000 different things, sometimes it's nice to have something that's only meant to perform one single task for the sake of simplicity and focus.
Citizen Group: one of the world's largest watchmakers
In 2008, Citizen continued their strategy of housing numerous brands under their umbrella, rather than just making Citizen watches, when they acquired Bulova. This move made them the world's largest watchmaker at the time. Since then, they probably lost this status though with all the Apple watches.
More recently, in 2016, Citizen acquired the Swiss watch company Frédérique Constant (with child brands Alpina and Ateliers de Monaco).
Citizen Technology
One of the most notable traits about Citizen isn't directly related to their technology, but rather to their incredible vertical integration in their manufacturing process.
Citizen makes every part of all of their watches in-house, and they make it all in Japan (save for one small exception for their Swiss brands, where the parts are made in Switzerland, but still by a company owned by Citizen so it's more of an asterix than an exception…).
Not only is Citizen manufacturing every single part that goes into every single one of their watches, but they even make the machines that are used to make the parts. Top to bottom, they're doing it all themselves.
Citizen has still done plenty to push forward watch technology beyond their contributions to the manufacturing process…
It's Atomic Time
In 1993, Citizen pioneered the multi-band atomic watch. These watches synchronize themselves to atomic clocks using radio frequencies. Once the watch is synced, there's no need to adjust for daylight savings time, or to adjust the date, or to make any other manual adjustments. This echoes Citizen's belief in making functional watches that are low maintenance.
Since 1993, Citizen has continued to push forward in this category. Seiko and Casio are two other brands that have explored atomic timekeeping in their watches.
Take an Eco-Drive
1976 is when the first analogue quartz watches powered by light were released. It wasn't until nearly two decades later, in 1995, that Citizen would take this to the next level with their introduction of the Eco-Drive but it was worth the wait. Every single one of Citizen's Eco-Drive watch models throughout the decades are powered by light.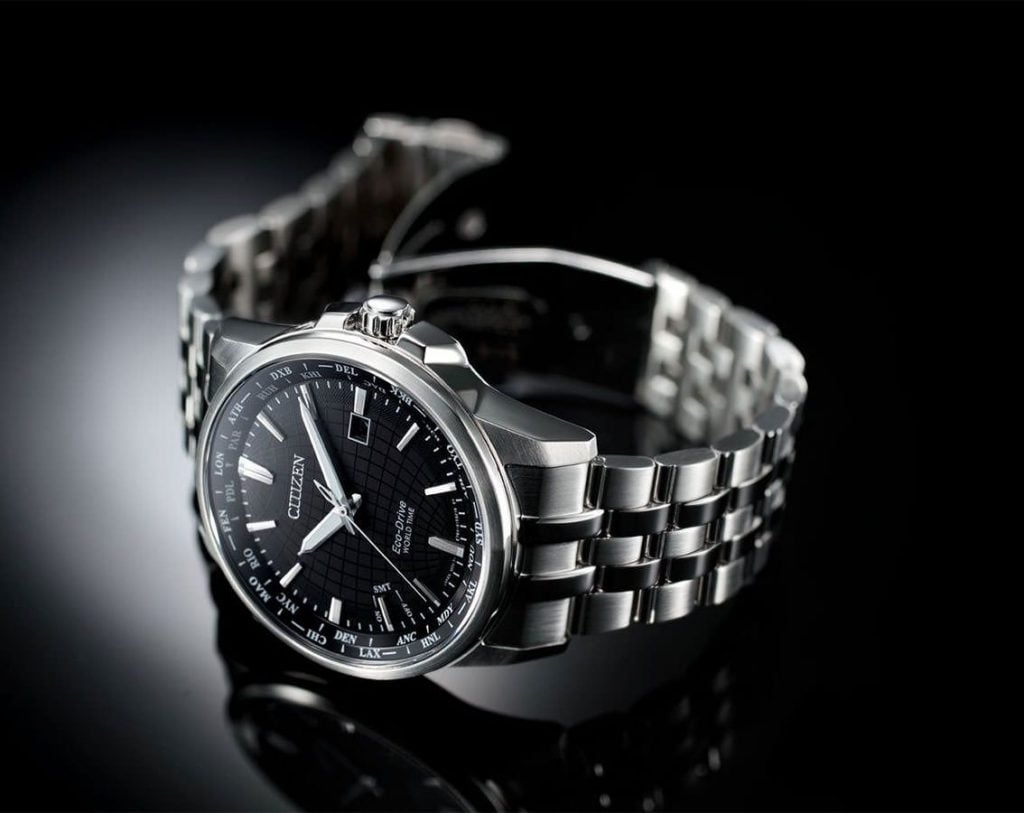 They can take any source of light and turn it into power for your watch, in the name of being more environmentally friendly. Watch batteries aren't the biggest harm any individual person causes to the environment, but it's more about the awareness and thoughtfulness that's inspired by such a cool watch and what it represents. Having this on your wrist can remind you to be more mindful about your impact during your day-to-day life.
Notable Models of Citizen Watches
Here's a selection of noteworthy Citizen watches, from past and present. This is hardly an exhaustive list of every special Citizen watch that has ever been produced, but it's a good start down the rabbit hole.
Citizen Diamond Flake
Here's a stunning Citizen watch from the 1960's. What made it very unique at the time was how incredibly thin it was. In 1960, the Seiko GoldFeather was the thinnest 3 hand watch, at a mere 2.95mm. In 1962, however, Citizen came along to take the crown with their 2.75mm thick Diamond Flake.
The website VintageCitizenWatches calls this one of the best dress watches, and it's pretty obvious why, because the Diamond Flake is all-class. They also feature the rare pocket watch version of the Diamond Flake.
Citizen Challenge Timer "Bullhead" Chronograph
While Seiko's vintage chronographs are now extremely well-known (notably the 6138 line), Citizen was also quite active in the 70's building their own automatic chronographs. And they did very well! The movements 8100 and 8110, beating at 28,800 bph, feature hand winding and the "fly-back" function. There are many different designs in this range, but the most-known are the "bullheads", with crown and pushers located at the top of the case.
One of these models, in a gold-plated case, was recently featured in the movie Once Upon a Time… in Hollywood.
Citizen Custom V2 "Blackie"
Citizen introduced their black-coated watches with a very special scratch-resistant material in the 1970's. These coatings can look great on watches, but the problem, historically, is that they weren't very scratch resistant. You could have this gorgeous, dark watch but once it starts to scratch and fade, it just doesn't look nearly as good.
When promoting their scratch-resistant coating, Citizen distributed samples with a small tool attached to scratch the surface, to prove how resistant it was. There were also labels that encouraged people to try scratching these watches with coins.
Citizen Seven Star Soccer Custom
Citizen has a small handful of custom watches that were made for very specific use-cases. Remember, this is long before everyone had a cellphone in their pocket with apps for just about anything, so watches with niche functions could appeal to very specific groups of people, in this case, for soccer. There are similar models for yachting and rally, but let's highlight the Soccer Custom.
What made this early 1970's watch unique was the rotating bezel that would keep track of how much time has passed in a 45-minute window, which allowed you to time each half of a soccer match. Of course, you can time a 45-minute span with any watch using the minute hand, but having the rotating bezel made it easier to see at a glance without any room for error or miscalculations.
Final Thoughts about Citizen
Citizen watches have stood the test of time, they've stayed true to their initial visions while continuing to innovate and push the industry forward. They've avoided temptations we've seen from other old brands like cheap outsourcing or slapping their names on any old watch, and earned a special place in the hearts of collectors and casual watch-wearers alike.
Further reading : learn more about other prominent watch brands
Dennis is the founder and editor of Vintage Watch Inc. Passionate about Soviet and Japanese vintage timepieces and a finance professional by day, he proudly wears a Seiko Pogue with his suit.