If you want premium quality without a premium price tag, an Orient vintage (or modern) watch may be the way to go.
Orient is a brand of Seiko Epson, originally founded as an independent company.
What distinguishes Orient from most other watch brands is that Orient has a longstanding history of designing and manufacturing their own movements. Most other companies outsource their movements.
You would expect this would significantly drive up the cost to own an Orient watch, yet these Japanese timepieces are surprisingly affordable.
Let's learn more about the history of Orient watches and check out examples of some of their most desirable and iconic timepieces.
Orient Was Founded Independently as the Yoshida Watch Shop
Orient can trace its roots clear back to the year 1901. That was when Shogoro Yoshida opened a wholesale store in Tokyo called the Yoshida Watch Shop.
Originally, the store simply sold watches rather than making them. But by 1912, it had branched into gold wristwatch case manufacturing, paving the way for Toyo Tokei Manufacturing to come into existence in 1920.
Toyo Tokei Manufacturing Gets Into Wristwatch Manufacturing
Toyo Tokei Manufacturing didn't focus on watches in the beginning, but rather on table clocks and gauges. But 14 years later, wristwatch production began. During the late 30s, the company was quite successful, conducting its manufacturing operations at the new Hino factory.
Alas, economic woes following World War II forced Toyo Tokei Manufacturing to close its doors in 1949.
Nevertheless, it wasn't the end. A year later, Tama Keiki Company picked up where Toyo Tokei Manufacturing had left off, manufacturing out of the same factory.
A year after that in 1951, Tama Keiki Company changed its name one final time, becoming the Orient Watch Company, Limited. In 2020, Orient celebrates its 70th anniversary.
Orient From 1951 Onwards
The same year that Orient assumed the name by which it is known today, it also manufactured the original Orient Star. With its blue hands, stylish design, compact case, and in-house movement, it was an immediate success.
After a memorandum trade agreement was signed with China in 1955, Orient's watches were able to achieve a much wider global distribution. That was when the Japanese watch company's products came to the world's attention.
Over the decades that followed, Orient continued to manufacture standout timepieces like the Auto King Diver or the Multi Year Calendar. Success continued into the 90s and the Aughts, and Orient has remained prominent today.
Today, Orient Watch is a Seiko Epson Brand
Orient did not remain an independent company. In 2009, it became a Seiko Epson subsidiary. In 2017, it was dissolved as a corporate entity. So today, it is not a subsidiary of Seiko Epson, but rather one of its integrated brands.
Even with this integration, however, Orient has continued to create in-house movements, and remains distinct in terms of its output. So, even though there have been some structural changes, Orient is still essentially the same entity.
Seiko Epson is the more well known and "mainstream" name between the two, but Orient's watches are no less desirable.
Orient Vintage Watches: Prominent Models
Now that you have learned in-depth about the history of the Orient Watch Company as well as its relationship to Seiko Epson, let's take a look at some iconic Orient vintage watches.
Orient Weekly Auto King Diver
This stainless steel diving watch features a 42mm, making it a hefty timepiece. As a "super compressor" watch, it stood out among other Japanese watches of its time. You can read more about the Weekly Auto King Diver here.
It also was one of the company's first forays into actual waterproof watches. Previous watches by Orient were "showerproof," but could not be labeled "waterproof." Demand for true waterproof watches was increasing at the time, however, and Orient knew it needed to dive in.
After its introduction in 1965, the company continued to produce the Weekly Auto King Diver through 1969. Today, it is a rare and precious acquisition and may run you around $1,000-$1,500 for an original in good condition.
This watch played such a big role in Orient's history that the brand recently released an Orient King Diver 70th Anniversary reissue. In appearance, it closely resembles the original (unfortunately the case is larger though, at 43.8mm) and is available in a variety of colors. This edition of the watch includes the F6922 automatic in-house movement. You can get the anniversary reissue of the watch for under $500.
Orient Multi-Year / Perpetual Calendar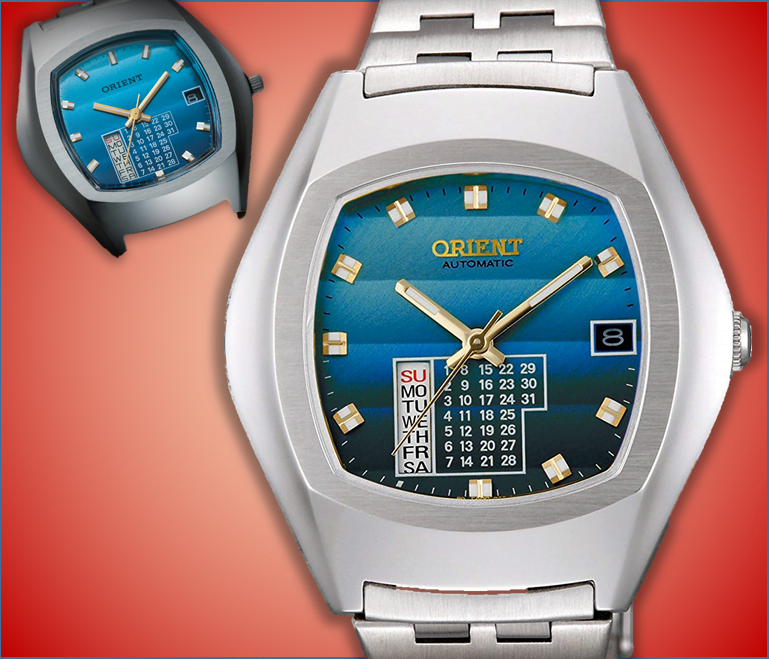 Another well-known watch by the Orient Watch Company is the Multi-Year Calendar. Actually, Orient has produced a series of Multi-Year Calendar watches. The original 1965 version is difficult to come by. The version which the company came out with 1976 is also quite rare, but Orient did a reissue of it in 2009-2010.
That watch has an eye-catching face with a squarish shape with rounded edges. Its aqua blue tone stands out immediately, and its look is (for the time) quite modern. There are markers in gold for the hours, matching the hands, but no numbers displayed around the edges. This leaves a clean, unobtrusive dial that focuses the eye on the calendar feature in the lower half.
Plenty of other designs followed, with a multitude of dial colors. Perhaps this watch inspired Soviet designers at the Raketa factory who came up with the Raketa Perpetual Calendar. The Orient Multi-Year is still being produced today and is readily available for sale.
Orient World Diver
The Orient World Diver series started in 1967, with a focus on simplicity and pragmatism. Since it could tell you the time at various cities, it needed to display a lot of information on the face. For that reason, Orient went with a clean, basic approach and a simple black dial. Doing so made it easy to read the names of the cities.
Nevertheless, Orient has always been up to a challenge. That's why it came out with a new version of the World Diver in 1969 which featured a caliber 4694 movement (a step up from the caliber 4971 movement featured in previous World Divers) and an exciting new face displaying a map.
The map shows continents and time zones around the globe, and is quite colorful ( yellow, orange, white, pink, dark and light blue all feature on the dial). The hands are silver with a light blue inlay. The city names are gone. The map is functional for reading times around the world, but takes some acclimating to, as it is less intuitive than simply reading the names of the city. It sure is stylish though! For more pictures of this amazing watch and a detailed description, you can check the excellent Orient Place blog.
If you want to collect an Orient World Diver, any watch from this line will make a great addition to your collection and the regular dial versions can be easily found on the bay. The most challenging one to come across (and thus generally the most expensive) is the one with the map on it, but you'll find few more eye-catching vintage watches. Like Orient's other watches, World Divers are renowned for running smoothly even today, and for holding up in beautiful condition.
Orient Fineness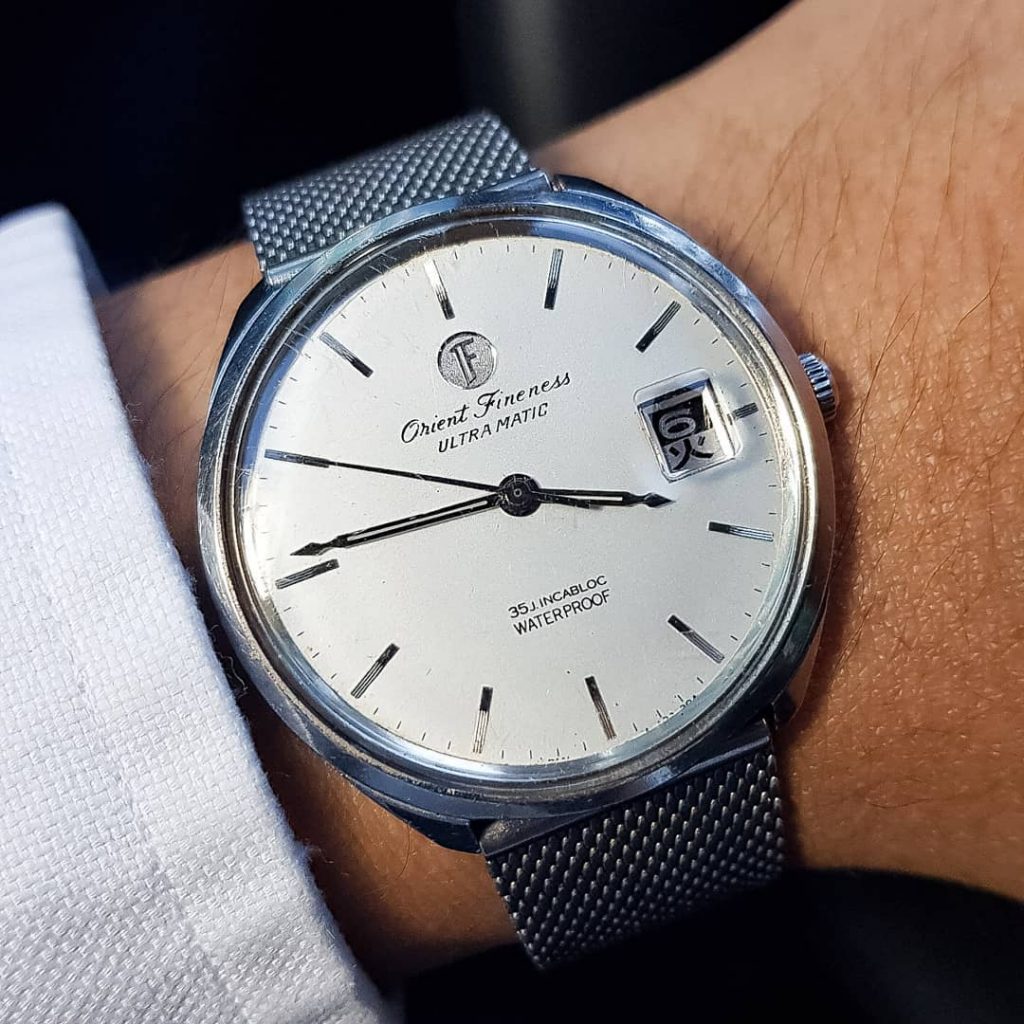 Many Orient watches are on the bulky side, but one Orient watch known for its slender profile is the 1967 Fineness. Indeed, when it came out, there was no thinner automatic movement with day-date display anywhere in the world.
In order to make this thin build possible, the watchmakers at Orient needed to utilize miniature parts. They carefully arranged these parts so that the gears could sit as close together as possible with a minimum of wasted space. The entire case consisted of one solid piece with an integrated back.
As thin watches were fashionable at the time, the Orient Fineness sold well. While it must have been tempting to create other versions or reissues later, Orient opted never to do so.
Orient Chrono Ace King Diver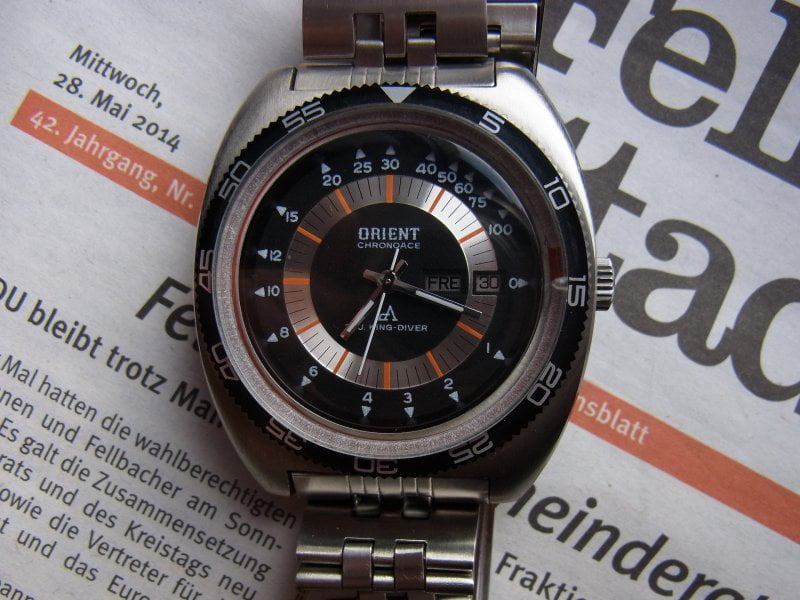 If you are interested in a premium Orient watch, you will want to take a look at the Chrono Ace King Diver from 1970. What makes this watch remarkable is that it features a water depth gauge.
So, the watch is waterproof, but it has a special inlet for water near 3 o'clock. This inlet allows the watch to provide a measurement of the depth. The appearance of the watch is suitably high-tech, with alternating black and silver on the dial and high-contrast text making it attractive and easy to read. This is one of the most expensive Orient watches to collect; it may run you up to a few thousand dollars.
Orient Watches Today
What should you know about collecting Orient watches today? The watches we've talked about above are some of the most highly sought-after. Considering that is the case, most of them are still quite affordable given their rarity and demand.
You'll find that many other Orient vintage watches are available for under $100. Indeed, quite a few even show up for under $50. So, these make great entry-level watches for those who are just getting into collecting vintage timepieces.
What is phenomenal about Orient watches is that even with their reasonable pricing, they are made of high-quality parts. So, even at a relatively low price, you should be able to find a watch which is still beautiful to look at and which continues to run accurately.
Collecting a Piece of the Orient Watch-Making Legacy is Affordable and Worthwhile
Now you know all about the history of the Orient Watch Company and some of the iconic vintage watches for which this company has become renowned.
Even though the Orient brand is now a part of Seiko Epson, it has retained its individual identity, and continues to manufacture its own movements, making it a unique watch company that puts out equally unique timepieces.
With the reasonable costs of those watches and their high-quality design, you can't go wrong adding an Orient vintage watch to your collection.
As you research, you'll probably discover more than one Orient watch model you want to acquire. And with their affordable pricing, chances are good you'll be able to do exactly that. You'll then understand exactly why Orient has such a dedicated fan base of passionate collectors.
References
orientplace.blogspot.com, Orient Place, blog dedicated to the Orient brand
larelojeriavintage.es, Extensive history of the brand, in Spanish
orientwatchusa.com, Official website of Orient Watch USA
Further reading : learn more about other prominent watch brands
Dennis is the founder and editor of Vintage Watch Inc. Passionate about Soviet and Japanese vintage timepieces and a finance professional by day, he proudly wears a Seiko Pogue with his suit.