The Desert Shield by Vostok is a unique watch.
First of all, a Soviet watch sporting an American flag is rather unusual. Even shocking, I would say. At the time this watch was made, the United States were often referred to as the "potential enemy" in the USSR. For this reason, among Russian watch aficionados, the Vostok Desert Shield is somewhat controversial.
There's also a lot of myth surrounding this model. Some articles or eBay listings will tell you that this watch was made for Pentagon by Soviet allies and gifted to US troops involved in the Gulf War. Anyone familiar with history would probably doubt this claim. Before the war started, USSR was desperately trying to find a peaceful solution for Iraq, its long-time ally. When it became obvious that there was no such solution, Gorbachev decided not to ruin the relationship with the West over Saddam and didn't get the country involved in the conflict.
And then there's the sheer number of variations of this watch that you can find online. Different cases, different dials, different movements. Are they all "frankens"? In this guide, we'll cover the history of this model and show you how to recognize the original edition and the legit variants.
Birth of the Desert Shield series
An American businessman, Bruce Erikson, got an idea: importing watches made in the USSR to the United States. Bruce founded a company called Timepeace Russian Watches Inc and stroke a deal with Vladislav Tsivilin, Director of the Vostok Watch Factory in Chistopol. 10,000 watches were to be supplied. The timepieces destined to commemorate the famous military action – operation "Desert Shield" – had to be "Russian military watches, heavy, massive, rugged" (according to Tsivilin's memoir). The dial was designed by Flag Research Center and features an American flag surrounded by Saudian coat of arms: two crossed tribal swords (representing the Kingdom of Hejaz and the Sultanate of Nejd united in 1932 to become the Kingdom of Saudia Arabia) under a Phoenix palm tree. Soon, the quantity was increased to 40,000 units.
In the article, Erikson hints that purchasing the watch may be a way to show support for "American soliders […] and their families". Apparently, George Bush and John Kerry received one as a gift. It is hard to say whether some of them have been actually given to soldiers though.
First watches may have been produced mid-1990. According to an article published in Journal of Commerce (sign up required to read), the watch began selling in November 1990.
How to recognize the original series?
The original Desert Shield series must have the following elements:
Dial: without the Vostok (B) logo, marked "made in USSR"
Bezel: with a lume point and small red dots between 8 and 12
Case: Amphibian #420 case with screw-down crown
Hands: hour hand with a large arrow end, red second hand with a small lume circle
Caseback: has the Timepeace logo with three domes and the following mentions: "Vostok", "Series I", "U.S.S.R", "Self-Winding", "S.S. Case", 5 digits serial number, "Watertight 200m", "21 jewels"
Movement: it is a self-winding Vostok 2416B; the rotor is engraved with a Vostok logo, "twenty one", "21 jewels"
Original edition of the Vostok Desert Shield. Source: auction listing
Obviously, this is the most sought after variant and may command a high price. I've seen some sellers asking up to $500 for a NOS (New Old Stock) with corresponding papers. However, I must stress out that the retail price was also high – the watch sold for $149 (and $99 for military personnel). It corresponds to $287 in current dollar value.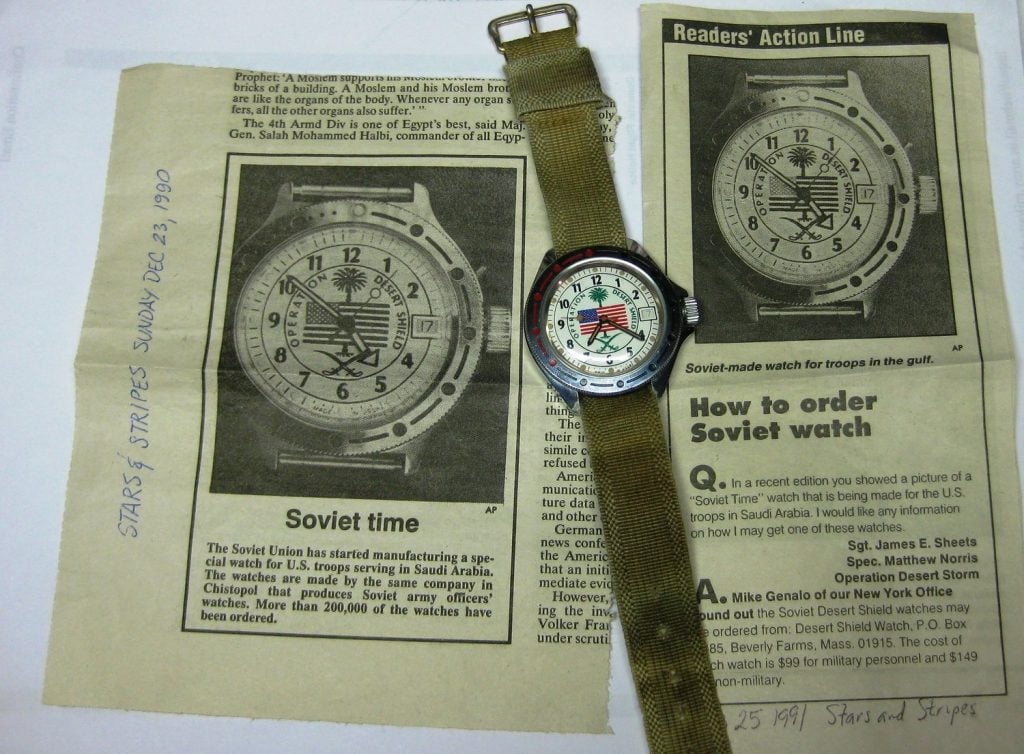 In my opinion, this original series corresponds to the first order of 10,000 pieces (thus "Series I" on the caseback). Indeed, I have never seen a serial number superior to 9,999.
The second Desert Shield series
Shortly after the production of the first series, Vostok manufactured more Desert Shield watches. The bezel, the caseback and the rotor engraving were different, as described in the checklist below:
Dial: identical to the original series — no Vostok (B) logo, marked "made in USSR"
Bezel: a more common Amphibian bezel, with red and black dots and a lume point. Note that there are no small red dots
Case: identical to the original series — Amphibian #420 case with screw-down crown
Hands: identical to the original series — hour hand with a large arrow end, red second hand with a small lume circle
Caseback: has the Timepeace logo with three domes and the following mentions: "Vostok" OR "Vremir", "U.S.S.R", "Self-Winding", "S.S. Case", 6 digits serial number, "Watertight 200m", "21 jewels"
Movement: self-winding Vostok 2416B; note that the rotor is engraved differently
The caseback mystery
The caseback deserves some extra comments. As written above, it featured either "Vostok" or "Vremir". So what is Vremir? Vremya means "time" in Russian, and Mir is "peace". Put these words together, and we get Vremir. Vremir was a trademark registered by Timepeace Russian Watches Inc. in 1991. It is probable that at some point Timepeace asked the manufacturer to replace "Vostok" by their new trademark, "Vremir", for commercial or tax reasons for example.
One more thing worth noting: these casebacks (with variations in terms of number of jewels / waterproof depth) were also used on other Vostok watches, so have a close look at yours before buying.
Examples of Desert Shield second series
Here is an example of a Desert Shield second series with a Vostok caseback:
And here is one manufactured in August 1991, sporting the Vremir caseback:
A Desert Shield with a Vremir caseback, NOS. Manufactured in August 1991
You may note that the documentation is in Russian, whereas the first edition had papers in English. It is also known that this version was available for sale in Russian shops, and a lot of these watches were later sold on eBay by German and Italian sellers. So, it is unclear how many of these were actually sent to the United States.
The "Junior" Desert Shield / Desert Storm
There is another model that you may see online. The dial design is slightly different as instead of "Operation Desert Shield" it says "Desert Shield Desert Storm" (this tells us that the watch was designed after January 1991 — date of the second military operation). Furthermore, it is significantly smaller: the case is just 34mm. The hands are also different.
This model is called "Junior" and it comes in a Komandirskie Junior case housing a manual 2409A movement (17 jewels). In principle, the caseback must feature the Timepeace three domes logo and mentions "Vremir", "U.S.S.R", "Watertight 50m", "17 jewels", "Shock-proof", "S.S. back" as well as a 6 digits serial.
Because of its small size, the Junior is much less popular and can be bought quite cheap.
This model is pictured in the 1993 catalogue, so it's a completely legit variant.
Here's how this watch looks in real life:
There was also a late variant with a special "made in Russia" dial and a different bezel. It was available for sale until recently (~2015-2016) from an official Vostok distributor. The watch looked like this: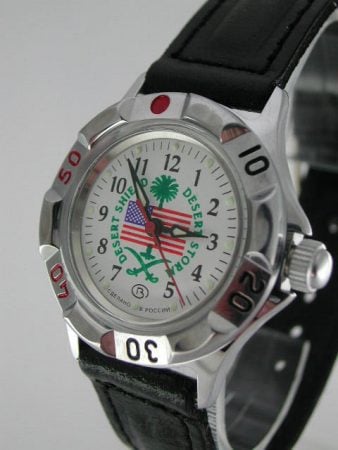 So what about the other ones? Are they frankens?
If you already own a Desert Shield, chances are it doesn't look exactly like the ones described above. The bezel and the caseback may be a little different, or perhaps the dial has a Vostok (B) sign. The good news is that it doesn't mean that your watch is fake.
Perhaps in the beginning Vostok had some leftover dials. Why not put the dial in a classic Amphibian case and sell the watch? The watch sold. So Vostok decided to reprint the dial, adding their logo "(B)" near one of the swords. Depending on the supply, various cases and movements were used. At some point, USSR was no more, so "Made in USSR" disappeared from the dial. In parallel, the legend of the "watch ordered by Pentagon / US Army" came to life, most likely to boost the sales.
The Pentagon / US Army legend
Have a look at this photograph, shot in Chistopol District Town Museum (as you know, the Vostok factory is located in Chistopol):
Note that none of the watches are from original series (the one on the right has a really weird combination of hands, case and bezel). Underneath, one can read: "In the end of the 80's, Amphibians from Chistopol were adopted by US army and its allies who were conducting the Desert Storm operation. These timepieces were given to victors as a reward." This sounds like a good selling point, doesn't it?
Of course, this is just speculation and we'll probably never know all the truth — this makes collecting the Desert Shields even more interesting. Talking about collecting, what versions can be considered as legit?
Desert Shields: the legit variants
Amphibian Desert Shield
The closest to the original is the Amphibian. It may have the same case as the original (#420) or a slightly thinner one (#020). It usually has the bezel from the second series (with a lume point), an Amphibian caseback and houses either an automatic 2416 B movement, or a manual 2414 A. The dial may be with or without the Vostok logo.
This model (dial without logo) is pictured in the 1993 Vostok catalogue (unfortunately the scan quality is very bad):
Here is a nice example with a manual movement and (B) dial:
Vostok Desert Shield in the Amphibian case (dial with logo)
The movements look like this (manual on the left, automatic on the right):
Komandirskie Desert Shield (crown at 2)
This one is also quite common and I'd say it's a looker with its crown at 2 o'clock. Pay attention to the hands — they are different from the Amphibian (the hour hand has a different arrow end and the second hand doesn't have a lume point). The bezel also doesn't have a lume point.
Other models
Additional versions have been reported as legit, such as Komandirskie with crown protection or the famous "ashtray" case. There's very little reliable information on these.
Modern reissue by Meranom
In April 2019, Meranom (one of the authorized distributors of Vostok watches) released a reissue of the Vostok Desert Shield. Priced at $109, the watch is powered by the automatic 2416 movement and is housed in a standard Amphibian case #420. The dial has been slightly modified: the font used for numbers looks slightly different and at 6 o'clock it says "РАЗРАБОТАНО В СССР" (designed / developed in the USSR). The bezel is regular Amphibian #42 without lume.
If you don't want to bother with vintage pieces and are fine with the fact that the dial is different, the price seems correct for a new watch. I'm a bit disappointed with the bezel choice though. If only they could bring back the old bezel with small red dots.
What Desert Shield should I buy?
With plenty of variants on auction sites, the purchase process may be somewhat challenging. Of course, the original series in NOS condition and with papers is the one to look for, but they are rare and expensive.
The "second" series can be found more easily but it's hard to know for sure that everything is original (the caseback may be from another watch, the case and the bezel are common and interchangeable…), is it really worth the premium?
My advice would be to search for a nice wearable piece that looks as close as possible to the first series, second series or 1993 catalogue version. You can use the following checklist:
Dial: important element. Try to find one where the flag hasn't faded too much (and hasn't been repainted!). Marked "Made in USSR" and preferably without the Vostok logo
Bezel: Amphibian bezel with red and black dots and a lume point in good condition. These can be bought new and replaced if necessary
Case: Amphibian #420 ("thick", for automatic movement) or #020 ("thin", for manual movement) case
Hands: hour hand with a large arrow end, red second hand with a small lume circle (see photos of the original and second series for reference)
Caseback: preferably Vostok or Vremir caseback with three domes, but an Amphibian caseback may work as well. Make sure the caseback corresponds to the movement, i.e. if the movement is automatic, the caseback should say "self-winding" or "автоподзавод". The number of jewels indicated must also be correct (21 for the automatic and 17 for the manual)
Movement: the more correct version would be the self-winding Vostok 2416B, but if you prefer manual you may also get the 2414A (see pictures above for reference). If the movements are stamped "SU", it's preferable (they are considered more reliable than later versions)
Put this Desert Shield either on a khaki or sand nato strap or on a brown distressed / vintage leather strap (with white stitching as a bonus), and it will look stunning!
Like This Watch?
Vostok Desert Shield
Use this buying guide to find a correct Vostok Desert Shield. Don't forget to carefully examine dial, hands, bezel and movement.
There we go, I hope that you found this article helpful. Feel free to leave a comment below if you notice a discrepancy or would like to get an opinion on your watch.
Disclaimer: please note that this article is just my personal opinion based on reading articles & forum threads, browsing through auction listings and collecting watches. Some information may therefore be incorrect.
Further reading : learn more about Vostok and Soviet watch industry
References
forums.watchuseek.com, "Vostok desert shield question", "The correct models of watch for the following Vostok Dials: Russian Space Forces and Desert Shield?", "Vremir – What do I have?"
montres-russes.org (French forum about Russian watches), "les heureux Kamarades possesseur de Desert SHIELD!"
forum.watch.ru, thread about Desert Shields (in Russian)
Dennis is the founder and editor of Vintage Watch Inc. Passionate about Soviet and Japanese vintage timepieces and a finance professional by day, he proudly wears a Seiko Pogue with his suit.