I regularly buy vintage Seiko and Citizen watches on Japanese marketplaces. Most of the time, the seller doesn't have the box & the documents. That's to be expected for ~50-year-old watches. What's more annoying is that the bracelets are resized for the previous owners' wrists and there are usually no extra links included. I don't have a very big wrist (16.5 cm) but it seems like it's slightly larger than the average Japanese wrist as I'm always missing that 0.5 cm (no joke intended).
So what to do in this case? The best solution would be to find an extra link, but there are not that many for sale. An aftermarket bracelet is another viable alternative, and this is my choice for Seiko 6139 "Pogue" chronographs: Uncle Seiko offers top quality H-link bracelets. But sometimes the original bracelet is so gorgeous that you really want to keep it…
This is what happened when I purchased a Seiko 7018 vintage chronograph. Just look at that watch (photo above). The bracelet is simply gorgeous… but really tight on my wrist:
I've never seen an extra link for sale for this bracelet (reference XLB 041). So I decided to use a bracelet extender. This little piece of steel is attached to the bracelet clasp and allows you to gain up to 2 cm.
The most important step here is to order the correct size. The small part of the extender (on the right) fits inside the clasp, so you need to measure correctly (I use this digital caliper). In my case it was 16 mm. Mine cost me around $6 with shipping.
In order to install a bracelet extender, you'll need either a spring bar tool or simply a paperclip. First, detach the clasp from the bracelet as shown below:
Make sure you don't lose the pin in the process.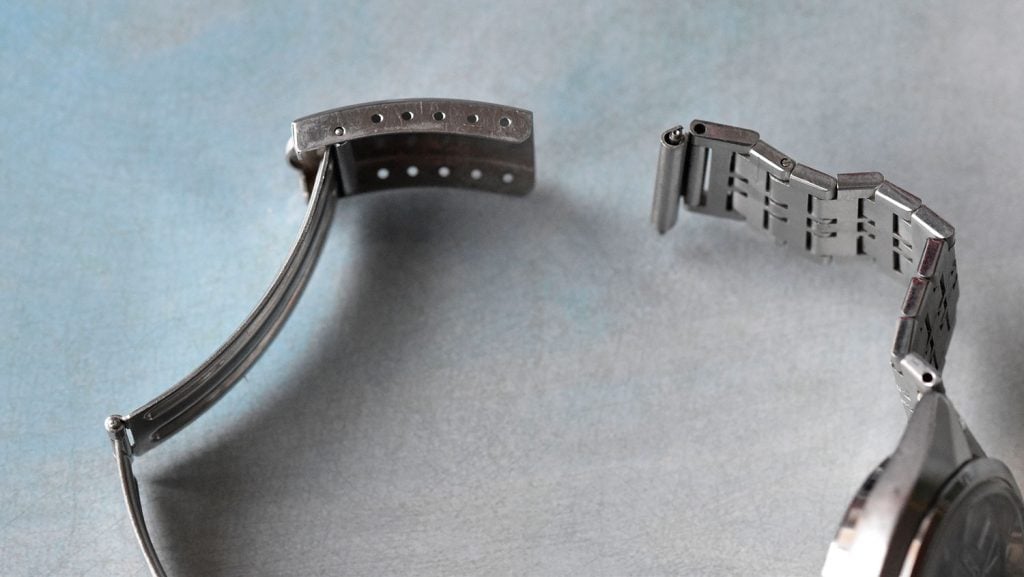 Connect the extender to the clasp, making sure the holes are aligned from both sides:
Then use the supplied pin to secure the extender to the clasp:
Finally, reconnect the extended clasp to the bracelet. Adjust the bracelet using small holes of the extender if necessary:
Voilà, all done. Now I can wear my 7018 comfortably:
I hope that you found this simple tutorial helpful!
Dennis is the founder and editor of Vintage Watch Inc. Passionate about Soviet and Japanese vintage timepieces and a finance professional by day, he proudly wears a Seiko Pogue with his suit.