Automatic chronographs by Seiko, issued in the 70's, hold a special place among collectible vintage watches. Some watch aficionados build their entire collections around legendary movements 6138 and 6139.
The number of iconic models here is staggering: Pogue, Panda & its "baby" variant, Kakume… And the list is never complete without one of the most emblematic pieces: the Seiko UFO, also known as the Yachtman.
It's massive, it's beautiful and it's famous. What's not to like? No wonder why the UFO's are so popular -- everybody wants one for their collection. After reading this guide, you'll know how to purchase one and avoid getting ripped off.
Seiko UFO: the ADN
Name: UFO, Yachtman, Big/Small Eye
The most common name for 6138-001X is "UFO" because of its characteristic case that looks like a flying saucer. Despite the size (44mm!), it actually may fit even smaller wrists (16.5+ cm / 6.5+ in) thanks to the lugless case.
To my knowledge, the only reference to the "Yachtman" nickname is an ad printed by Unimetrics Inc., an official Seiko US distributor in the 70's.
The last variation of the name is "Big Eye-Small Eye" -- as you can see, the sub-dials are slightly different in size.
As seen on TV
Our featured watch is a frequent guest on big screen. You may know that Jean-Paul Belmondo is a watch aficionado. In some of his movies he is seen with a Submariner, a Breitling Chronomat or a Tank by Cartier. Apparently he also enjoyed wearing Japanese timepieces -- such as the Seiko UFO in Le Magnifique.
Another movie is Bicentennial Man with Robin Williams. Given its IMDB rating, I decided against watching this movie, so can't tell you much about the story. Screenshot below.
The Big/Small Eye is considered as an iconic model in Japan as well, as evidenced by the Japanese investigation movie Stone's Cocoon (Ishi no Mayu) where main role Kimura Fumino is wearing a watch that belonged to her dead father.
Last but not least, we have this infamous ad by McDonald's, where a boy goes through the belongings of his dead father and finds a Seiko 6138 Yachtman. The fast-food company had to withdraw the ad after hundreds of complaints from customers who thought that the commercial -- released close to Father's Day -- cynically exploited childhood bereavement. You can watch the full version of the ad here.
Seiko 6138 UFO featured in a McDonald's ad
Model numbers
As usual with Seiko's, several model numbers were used, some for domestic models (Japanese domestic market or JDM), some for international, and some for both.
The following numbers can be encountered:
6138-0010
6138-0011
6138-0012
6138-0017
6138-0019
Technically, these are not model numbers but "movement-case" reference numbers, as they are composed of the movement code (6138) and the case code (0010/0011/0012/0017/0019 -- yes, I know that the case looks exactly the same -- still, the code is different for some reason). For the ease of use, however, we will call them "model numbers" in this article. We will discuss the differences between these model numbers later on.
Release date and retail price
The first reference of the watch can be found in the 1969/1970 US catalog. It disappears from catalogs in 1979. Based on this information and all the casebacks I had a look at, I assume that the UFO was produced between 1970 and 1978/1979.
The watch retailed for 20,000 yen in Japan and for $135 in the US. Taking into account inflation since 1970, this corresponds to 65,000 yen and $870 today.
UFO in the catalogs
From 1969/1970 to 1978, all the catalogs that I could find. It's obviously hard to see all the details, but these are helpful to track dial variations.
How to buy an authentic Seiko 6138 Yachtman?
Enough of theory. Let's scroll through these eBay listings and see whether we can get something authentic… Unfortunately, there are loads of "Feikos" out there. Dials, bezels, hands -- all of them can be aftermarket and often it's hard to tell the difference. And then there are franken-masters who will replace missing parts with parts from other watches. Let's have a look at the main elements of the UFO, one by one.
Movement
This Seiko is equipped with the 6138 automatic chronograph movement (click here for a list of all models powered by 6138), released in 1970 (or 1969 according to some sources -- but I haven't seen any UFO's manufactured in 69). The 6138 caliber, running at 21,600 beats per hour, has two variations -- the 6138A and the 6138B with a modified switching mechanism. The 6138A has 21 jewels and the 6138B either 21 or 23 jewels.
Here's an example of the 6138A, installed in a Japanese domestic Seiko UFO 6138-0011 produced in 1971:
According to my research, based on catalogs and photographs posted by owners, the UFO was equipped with the 6138A and then, starting somewhere in 1972, with the 6138B which was always marked "21 jewels". Below is an example of a 1972 Yachtman equipped with the 6138B: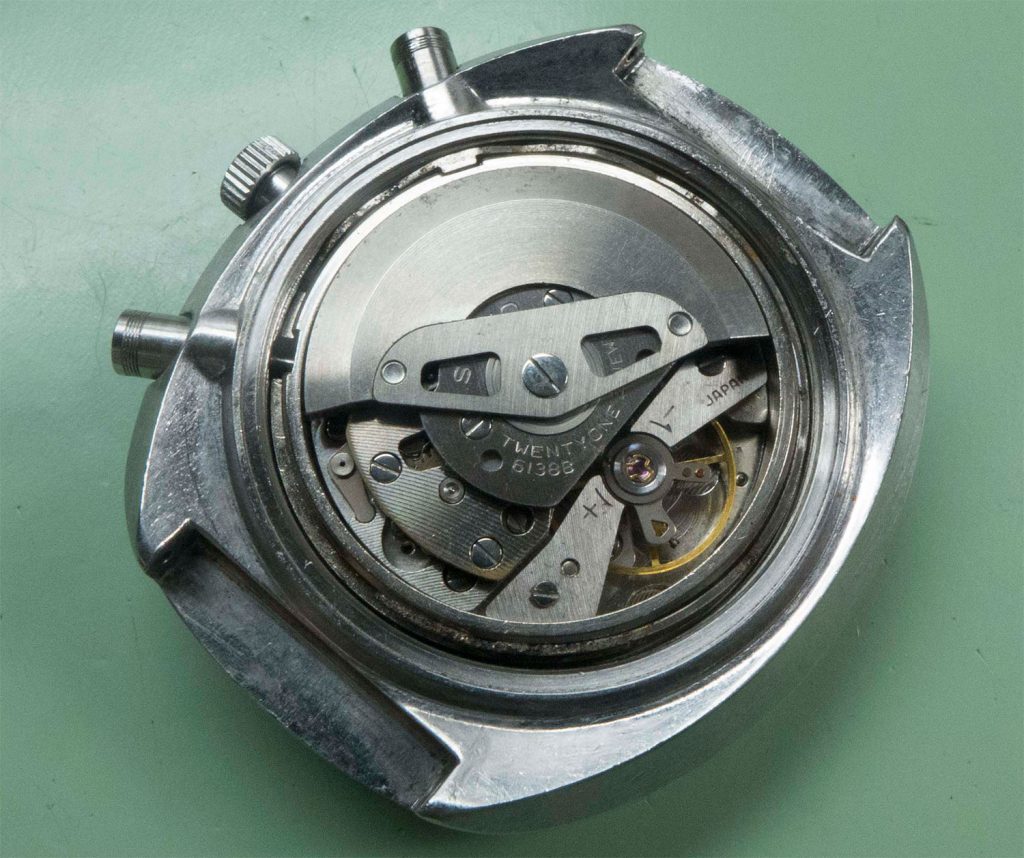 Dial
Dial families: early JDM, international & late JDM
We can group the different versions of dials in three "families" based on the marking at 9 o'clock:
"Seiko 5 Sports Speed-Timer": we will refer to this version as "early JDM" dial
"Seiko Chronograph Automatic": "export" or "international" dial
"Seiko Speed-Timer": this is the "late JDM" dial
The main difference is of course the marking. Note that on JDM versions, all the words are printed whereas on international dials "Seiko" is applied. But there are additional differences out there.
Proof/Resist
If you take a closer look at three dial photographs above, you will notice that, under the day-date window, markings are different:
Water 70m Proof on the first, early JDM dial (this watch -- a 6138-0010 -- was manufactured in March 1970)
Water 70m Resist on the second, international dial (6138-0011 manufactured in March 1972) -- if you're wondering, the day is in Portuguese and it corresponds to Friday
No water resistance indication on the "late JDM" dial (manufacture date unknown)
These differences can be encountered on other Seiko vintage watches (like the Pogues) and are explained by a law change in the United States which occurred sometime in 1968. In a nutshell, the term "water-proof" could no longer be used and had to be replaced by "water-resistant". Seiko had to change the markings, but this change wasn't immediate and varied across the markets. Without delving too much into this interesting topic, the following patterns can be observed when it comes to UFO's:
Water 70m Proof is seen on watches made until 1971
Water 70m Resist is seen on watches made until 1972
No water resistance marking on watches made starting from 1972
However, please note that this is not exact science. For instance, there have been sightings of UFO's with resist dials and casebacks -- which obviously can be easily replaced -- indicating production dates up to 1977.
Suwa Sign
The Suwa sign is the little swirl printed at 3 o'clock in the first two pictures above. It is the logo of Suwa Seikosha, a Seiko subsidiary which became Seiko Epson later on.
On some watches, you will notice that the Suwa sign is printed right on top of the minutes sub-dial. This is the case of JDM dials without water resistance markings, as seen in the pictures below:
Colors
While there are no doubts regarding main colors of the dial -- it's always black, sub-dials being silver -- there may be subtle differences when it comes to sub-dial markers and the "Speedtimer" marking on JDM dials. Most of the time they are orange (more or less intense -- depending on the fading, lighting conditions, etc.), but they can be yellow as well, as seen in the photograph.
Colors may be mixed as well, with "Speed-Timer" in yellow and markers in orange. There are reports of a red color scheme as well.
Dial numbers
As you can see, the dial has some inscriptions between 7 and 8 o'clock, and between 4 and 5 o'clock. The first one always says "JAPAN 6138". The second one is the dial reference number. It is different from the number displayed on the caseback. In the above example, it says "- 0010T". So far I've seen five different dial numbers:
6138-0010T: early JDM dial, orange color scheme, with or without water proof indication
6138-0014T: early JDM dial, yellow or orange color scheme
6138-0015T: late JDM dial
6138-0020T: international dial, with or without water proof indication
6138-0029T: international dial, with water resist indication
My sample size is necessarily smaller when it comes to dial numbers, as you don't always see them in the photos, so take the above information with a grain of salt. For instance, it is probable that 0029T also exists without water resist indication, but I haven't seen one yet. What I also find curious is the position of inscriptions for references 0014T and 0015T. As you can see, it is somewhat closer to 7 and 5 hour markers. More research is definitely necessary to have the full picture about dial references.
Gallery of various dial references.
Beware of aftermarket dials
As an iconic Seiko watch, the Yachtman is heavily faked and there are loads of aftermarket dials out there. Most of the time, they are quite easily detectable, but you'll definitely need to train your eye. The most important elements to look for are:
Fonts & characters: original dials use Seiko in-house fonts, so take a minute to closely observe how different letters look. For instance, the "O" in "Seiko" must be slightly oval, whereas it's round in a lot of aftermarket dials. Print may be thinner or thicker than original.
Spacing of elements: very often the spacing between different elements is wrong. For example, it can be the spacing between words in the water proof/resist marking.
Position of elements: sub-dial markers are often positioned wrongly. Can be the case for other elements as well.
Colors: if the dial is not black and the sub-dials are not silver, then you're looking at a fake.
Chamfer/frame around day/date windows: you may see that the space around day/date windows appears a bit darker and the texture is different on original watches. This "frame" is usually absent on aftermarket dials. However, sometimes it also barely visible (or absent whatsoever? to be confirmed) on legit ones, so this should never be the decisive element.
Overall quality of print: aftermarket dials usually show lower printing quality (print is less sharp than original).
Here are a few examples of aftermarket dials, try finding the differences with original ones using the above checklist:
Gallery of aftermarket dials for Seiko Yachtman.
Hands
You probably noticed that in the photographs featured in this article so far the hands do not always look the same. Indeed, I counted at least five different sets (see the gallery below for pictures):
"Arrowhead" hands: encountered on earlier models with 5 Sports Speedtimer dials. The hand tips may look a bit differently, this is what I called "type 1" and "type 2" in the gallery. I believe both are legit.
Short hands with lume: encountered on earlier models with Chronograph Automatic dials. When I say short, I mean that the minute hand barely reaches the hour marker.
Long "sword" hands with lume: the minute hand reaches the individual minute markers. Encountered on models with Chronograph Automatic dials.
Long "sword" white-painted hands: encountered on models with early and late JDM dials.
Gallery of hour and minute hands.
The sweep second hand is either yellow, orange or red. The second hand color does not necessarily match the overall color scheme.
The sub-dial hands are always black. You can see plenty of examples of sub-dial hands and second hands in the photographs above.
Crown and pushers
The crown is ribbed and unsigned. The pushers are quite special on this model -- they are engraved with 5 small rings.
Bezel
Some of the aftermarket bezels are very well done and it may be hard to determine whether yours is original. Your best bet here is to look at the characters and the spacing, and use some common sense -- if the case has quite a few scratches, the bezel simply can't be flawless.
Examples of aftermarket bezels.
Crystal
The crystal is Seiko proprietary mineral glass (hardlex). Reference #340W14GN. It's easy to get a quality aftermarket replacement for ~$30 if the crystal is scratched, so I usually don't worry much about this. It's generally considered that having an aftermarket crystal does not reduce the value of the watch that much.
Bracelet
If you take a look at catalog shots above, you'll notice that bracelets on models with export dials look different from models with JDM dials.
Bracelets for export models
According to my research, the bracelet (and the clasp) for export models looks like this:
There is also a very rare version of Stelux president bracelet, highlighted in the following video by Spencer Klein:
Seiko 6138-001x "Yachtsman" - a few variants - World, JDM, & more
Some nice additional info in that video (including the fact that he has a UFO apparently produced in 1969 -- unfortunately caseback is not shown), so definitely worth checking out.
Bracelets for domestic models
For JDM models, I've encountered two bracelet references: XAA240 and XAA541 and two variants of clasps, one marked "Seiko 5 Sports" for early JDM dials and one marked "Seiko Speedtimer" for late JDM dials.
Gallery of bracelets for models with JDM (early and late) dials.
Caseback
There were two types of casebacks installed on Seiko UFO 6138-001X:
The "elaborate" one, with a circle and the following markings: "SEIKO", the Suwa sign, "Stainless Steel", model number, "Water resistant" / "Water resist" / "Waterproof" (depending on the manufacture date), 6-digit serial number and "Japan J". These casebacks were installed on all models except 6138-0012. In principle, the water resistance indication on the caseback should correspond to the dial marking, but in reality it's far from always being the case.
The "simple" one, with similar information but organized in a different, more basic way. These were only installed on 6138-0012 according to my observations.
Casebacks seen on Seiko 6138-001X.
Model numbers & patterns
Now that we've covered most of the important elements of a Yachtman, it's time to share my observations regarding model numbers. These are just patterns that I noticed while handling some Seiko 6138 UFOs & checking various articles, forum threads and auction listings. As always -- you may find some exceptions in your search!
6138-0010: seen with both JDM (common) and international (rare) dials. JDM is always early dial, water proof indication, arrowhead hands, Suwa sign at 3 o'clock and manufactured in 1970 (I haven't seen casebacks with later manufacture dates). International variants have proof indication and short hands.
6138-0011: this is the most common model number, seen with both JDM (early and late) and international dials.
6138-0012: both JDM (early and late) and international dials. This model has a simple caseback.
6138-0017: only international dials. Long hands.
6138-0019: only international dials. Quickly discontinued. Rare.
These patterns can clearly be improved with additional data, so do not hesitate to share your findings in the comments area.
Buying a Seiko UFO: the quick checklist
Ready to buy a 6138-001X? Here is a checklist that you can use:
Make sure you have clear pictures of the dial, the caseback, the movement, the sides of the case and the bracelet clasp. Ask for additional pictures if necessary.
Dial: does it pass the authenticity test?
Hands: if they are original, do they correspond to the dial? Do they look as if they may have been repainted?
Movement: make sure it doesn't show any corrosion / rust / humidity marks. What's the service history? Do all the functions work as expected? Does the second hand return to zero? If some of the functions don't work (e.g. chrono doesn't start), repair may be expensive. On the other hand, if the only issue is sticking pushers (make sure they are authentic by the way), this is no big deal.
Case: avoid over-polished cases, edges should be sharp.
Caseback & model number: is it consistent with the dial and the hands?
Bracelet: does the seller claim that it's original? If there's no bracelet, you can get a great replacement from Uncle Seiko.
Like This Watch?
Seiko 6138-001X "UFO"
Use this buying guide to purchase a legit Seiko 6138 UFO. Pay special attention to the dial, hands and movement condition.
Wrapping up
I hope that you found this information useful. Even though I tried to make this article as complete as possible, I am by no means a Seiko expert -- if you notice some discrepancies or have something to add, please do so in the comments area below.
Bonus: scans of Seiko ads featuring the UFO
Seiko ads featuring 6138-001X.
Further reading : check out our vintage Seiko reference guides
References
Dennis is the founder and editor of Vintage Watch Inc. Passionate about Soviet and Japanese vintage timepieces and a finance professional by day, he proudly wears a Seiko Pogue with his suit.