One of the most popular articles on this site is the Seiko 6138 chronographs guide. Its success prompted me to undertake a more ambitious project and showcase the different models powered by the very first automatic chronograph by Seiko: caliber 6139. More ambitious, because as you will see the sheer number of different designs is quite impressive.
The objective of this guide is not to list all the different hands & dial variations or caseback references for all the watches but to provide an overview of available designs and show you that there's much more than the famous Pogue in the Seiko 6139 family. A rough indication of the market price for a good condition original watch is also provided. However, please note that there are many factors affecting the price (such as dial markings, making the watch more or less rare, and the lack of data for the rarest models) so take this with a grain of salt.
Here is the 6139 line-up, sorted by model number:
6139-600X: 4 different color schemes
In this major family of 6139 chronographs, you have four different dial color schemes fitted in the easily recognizable sporty case. Model numbers are: 6139-6000, 6139-6001, 6139-6002, 6139-6005, 6139-6007 and 6139-6009 (it is generally thought that model numbers here are related to regions the watch was sold in).
Blue Dial "Cevert"
The blue-dialed version of the Pogue is sometimes nicknamed "Cevert" because of the famous French F1 racer François Cevert, who used to wear one of these watches. François Cevert was killed in a violent crash at Watkins Glen International in 1973.
Pink Floyd's Nick Mason wore one too.
Yellow Dial "Pogue"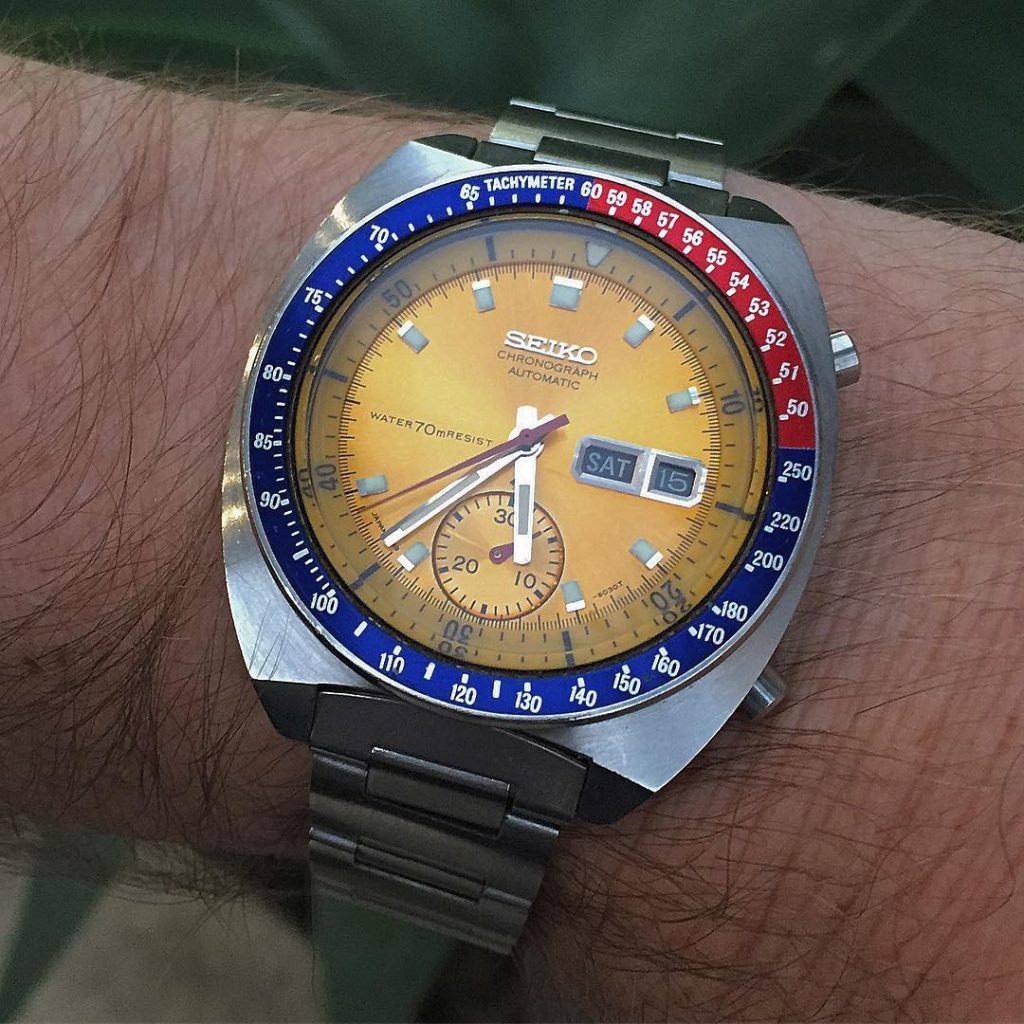 This is undoubtedly the most famous model in the lot. The yellow dial Pogue was the first automatic chronograph in space, worn by Colonel William Pogue during the 1973 Skylab 4 mission. Purists say that only the reference 6139-6005 with "Water 70m resist" marking on the dial can be called "Pogue": they refer to it as "True Pogue". However, it is generally accepted that all models sporting a yellow dial are "Pogues".
Silver Dial
The elusive silver dial version is a rare guest on auctions and forums.
Teal Dial "Sunrise"
Another rare variation, the "Sunrise" (the nickname comes from the subdial markings) was allegedly only produced during two months (November and December 1972). Because it's so scarce, valuations have been stratospheric lately (north of $2,000 for some listings).
Seiko 6139-600X Market Price: there are around 20 variations here, each one commanding a price based on its rarity. To summarize, let's say that blue dials can be found for $500-$750, yellow dials $800-$1,200, silver dials $1,000+ and teal dials $1,500+.
6139-601X "Bruce Lee"
These models are among the very first 6139 ever produced. Currently, the earliest known version is dated January 1969 and it's a 6139-6010.
The black 6139-6010 with a Speedtimer marking on the dial (on the right in the picture above) was worn by Bruce Lee. In this family, you can encounter model numbers 6139-6010, 6139-6011, 6139-6012, 6139-6015, 6139-6017 and 6139-6019.
Blue and black dials are by far the most common, but you may also see other color schemes (in particular bearing the 6139-6012 model number) including a grey dial, a black dial with white sub-dial and a funky all-gold version.
Seiko 6139 "Bruce Lee" Market Price: around $500.
6139-602X "Pulsations" or "Doctor's Chrono"
This eye-catching chronograph is one of the coolest in the lot. It has a very special function: thanks to its rotating pulsations bezel, you can measure heart rate. Start the chrono, count to 10 and you'll know the number of pulsations per minute. Because of this function, the 6139-602X is often called "Pulsations" or "Doctor's Chronograph". According to this very interesting discussion over at Wrist Sushi, this watch can also be used to measure doughnut production… Exists with silver, white, black, blue and chocolate brown dial. Model numbers 6139-6020, 6139-6021(?) and 6139-6022.
Seiko 6139 "Pulsations" Market Price: $400-$800.
6139-603X "Coke"
Sometimes called "Black Pogue", this watch has a black and red tachymeter bezel and a black dial, set in the characteristic cushion shape with sharp edges and angles. Model numbers 6139-6030, 6139-6031 and 6139-6032.
Seiko 6139 "Coke" Market Price: $700-$1,000.
6139-604X "Silver Ghost"
It seems like people have a love or hate relationship with this watch (also encountered under model number 6139-6041), dubbed Silver Ghost or Gray Ghost because of its dial or its fading bezel. What's sure is that it doesn't leave anyone indifferent. Personally I'm not a big fan because I find it a little bit bland. Its round case is not typical for the Seiko line of 70's chronographs and the colors are not exactly bright (unless you're looking at the orange dial version of course). The black & gray bezel is prone to merciless fading, which makes finding a Silver Ghost in good condition is a challenge! If you're interested in this model, there's a nice write-up over at Fratello.
Seiko 6139 "Silver Ghost" Market Price: $450-$750.
6139-700X
This all-occasions chronograph is characterized by an internal 0-100 bezel (the only model in the family to have this) and a high-contrast bold dial. The dial color can be light blue/silver, khaki blue or black.
Seiko 6139-700X Market Price: up to $500.
6139-701X
"Military" Dial
The 6139-7010 (some models bear 6139-7011 or 6139-7012 reference) is the only watch in the line-up having alphanumeric hour indexes. Some of these watches were issued to different military corps such as the Japan Maritime Self Defense Force (JMSDF) or Japan Air Self Defense Force (JASDF). These have a specific caseback with the corresponding logo (you can find more information here).
This watch was also available for sale to the general public as it can be seen in a Seiko brochure (the production run must have been quite short though as most of them were manufactured between 1970 and 1972 according to caseback numbers). While the black dial is the most common, there is also a variant with a silver ("iceberg") dial:
Seiko 6139-701X "Military" Market Price: $750-$1,000.
Dial Without Alphanumeric Hour Indexes
Housed in a similar case to the Military chrono described above, this variation (usually bearing the 6139-7012 model number) doesn't have an official nickname as far as I know but it's an interesting watch nevertheless, especially this unique "coffee & cream" dial version. Wondering how to use the tachymeter scale? Have a look at this blog post.
Also exists with a black dial:
Seiko 6139-701X "No Alphanumeric Indexes" Market Price: $500-$750.
6139-7020 "Apple" or "Flying Saucer"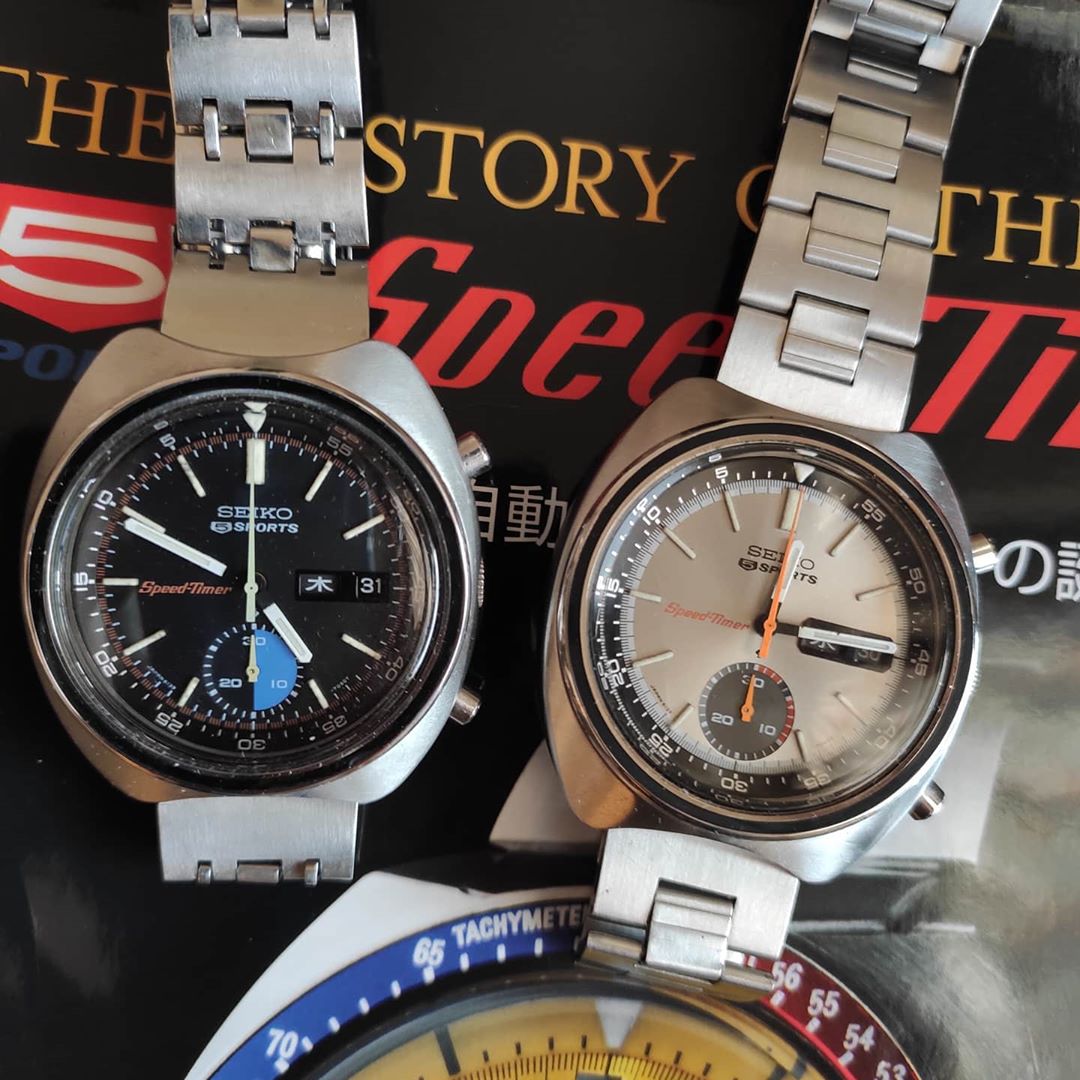 The crescent-shaped scoops at the lugs make this case shape quite unique.
Seiko 6139-7020 Market Price: up to $500.
6139-7030 & 6139-7070 "Baby Jumbo"
These two watches look very much alike but if you examine them closely, you will notice that cases are slightly different. The 6139-7030 (or -7031, on the left) has a longer shape with pointed lugs, whereas the 6139-7070 (or -7071, on the right) is less tonneau-ish. There are quite a few more subtle differences between these cases as you can see in the comparison photo below. The bezel and the crystal are different, and so are the bracelet endlinks (curved for -7030 and straight for -7070).
Dubbed "Baby Jumbo" because of the dial similarities with the 6138-300X Jumbo, this is a gorgeous and highly wearable timepiece. As far as I know, just like its bigger brothers, these come with dark blue (petrol) or black dials.
Seiko 6139 "Baby Jumbo" Market Price: $500-$750.
6139-7050
This sandwich three-level dial is perhaps the most elaborate of the lot. A rare sight, the 6139-7050 is a highly desirable JDM-only chronograph and is a more colorful version of the -7070 shown just above.
Seiko 6139-7050 Market Price: $500+ and up to $1,000.
6139-706X
Look at that gorgeous trio. Very 70's, very Japanese, it looks like the Seiko essence. Perfectly proportioned, the case features brushed and polished surfaces and the dials are to die for. Besides these JDM-only references, there's also another Japanese design with a cream dial and a "chronograph automatic" international version with a black dial:
Seiko 6139-7060 Market Price: starting at $250+ for the most common dial (black), and up to $1,000 (or even more) for the rare JDM-only models.
6139-7080 "Hexagon"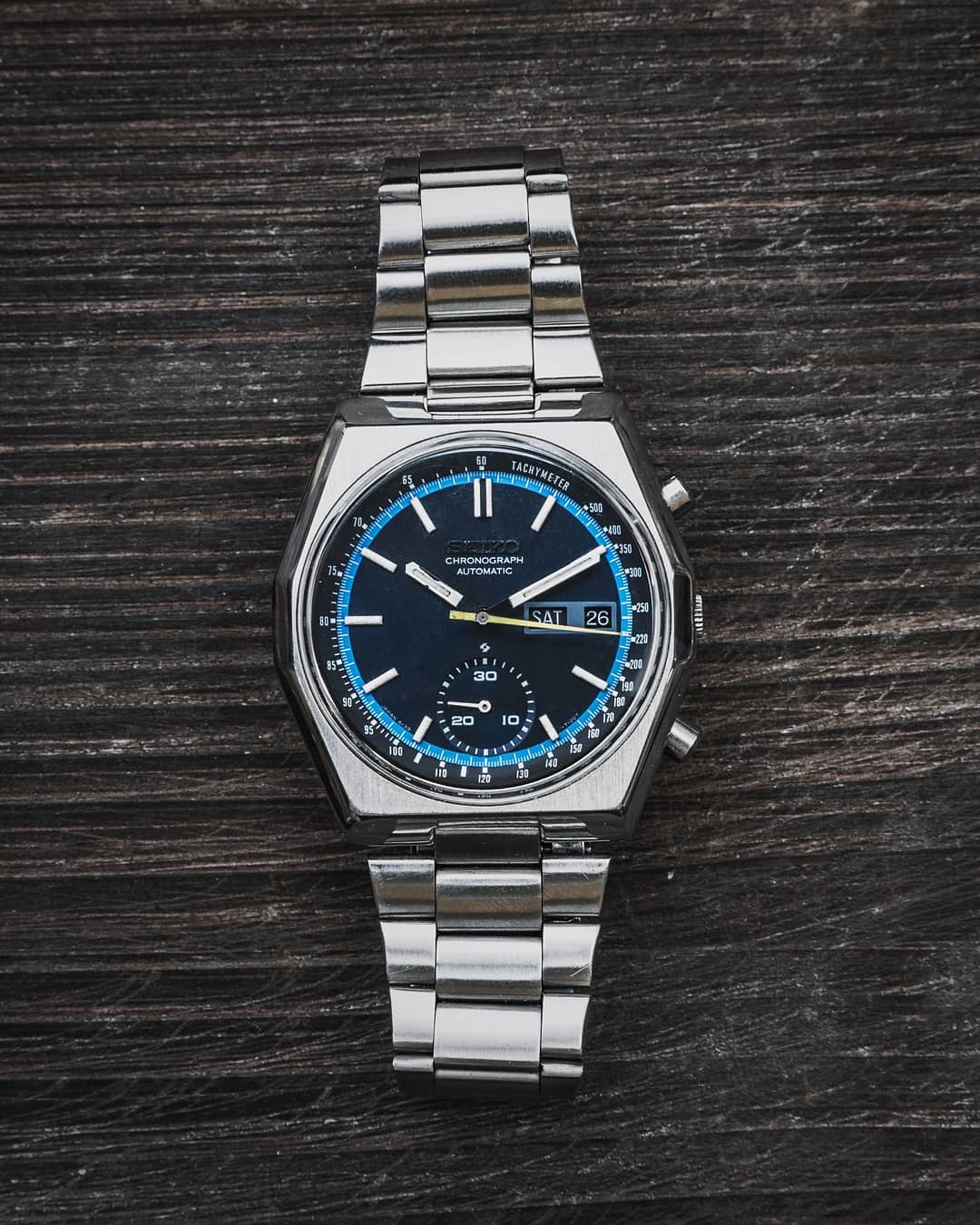 Seiko was obviously experimenting with different case designs here, and the result is this controversial "Hexagon" model #6139-7080. Quite uncommon, this model was available with either champagne or black dial.
Seiko 6139 "Hexagon" Market Price: around $350.
6139-710X "Helmet" / "Darth Vader"
Apparently, helmet cases are not very popular with collectors. For this reason, this reference is still quite affordable, just like its 6138 counterpart "Tokei Zara". However, scoring a white helmet or a black dial "Darth Vader" in good condition is not that easy: the case is quite special and features surfaces with alternate finishing. This beauty is totally ruined when the case gets polished. Personally, I quite like this model and still waiting for a perfect one to add to my collection. Last but not least: this watch was worn by Al Pacino.
Seiko 6139 "Helmet" Market Price: often available for less than $500.
6139-800X
This barrel case with hidden lugs, reference number 6139-800X, features some really interesting dials like the above blue/grey/purple cocktail. Other dial colors include black (with different subdials), silver and khaki blue:
Seiko 6139-800X various designs
Seiko 6139-800X Market Price: usually around $350.
6139-8010/8019
The 8010/8019 has a stainless steel case with black PVD coating. Most commonly seen with a black dial, it also exists with a beautiful gold/beige face.
Seiko 6139-8010/8019 Market Price: $350-$500.
6139-8020/8029 "Retro Racer"
Another unusual model, this retro racer features a hooded case and a clean, highly readable dial. The most special part of this watch is probably its funky rally-style bracelet. Also exists with a black dial:
Seiko 6139-8020/8029 Market Price: $350-$450.
6139-8030
Almost no information about this model reference out there. It seems like this case is one of the smallest in the line-up. I've seen samples with black, blue and silver dials.
Seiko 6139-8030 Market Price: $250-$500.
6139-8040
Lovely case featuring rolled hooded lugs and clean edges. Seen in Japanese catalogs with beautiful green and blue dials, it seems like there were no "international" counterparts.
Seiko 6139-8040 Market Price: ~$500.
6139-8050
The 6139 line-up features several chronographs could almost be considered as dress watches, instead of the usual racing-themed timepieces. One of them is this 6139-8050, with its sunburst ocean green dial, seringue hands and a smaller case with prominent lugs.
There's also a blue dial version of this reference: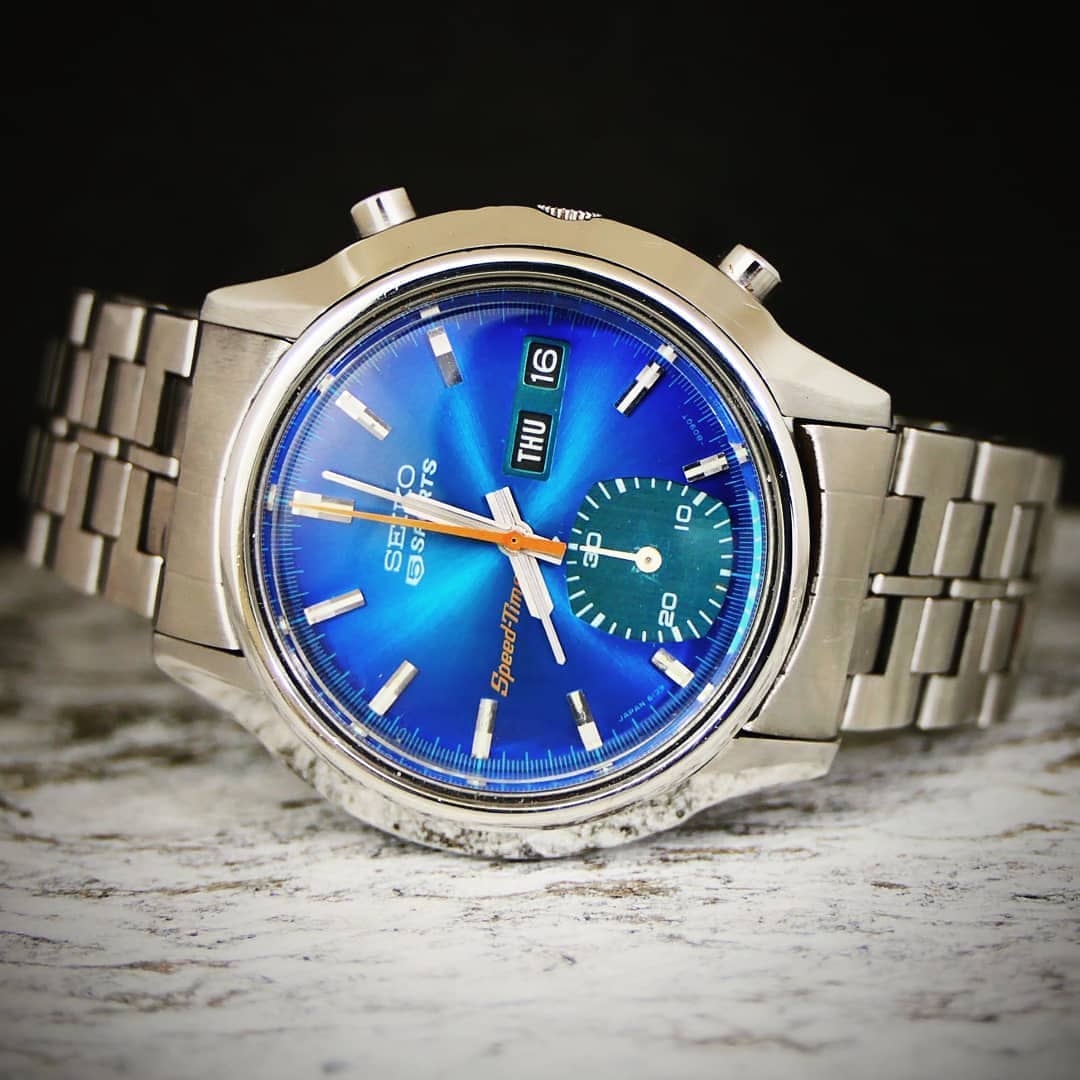 Seiko 6139-8050 Market Price: $500-$850.
Seiko 6139: Presentation of the movement
Technical details
We're finishing this article with a short description of the movement that powers all of these beautiful watches. The 6139 caliber is a single, 30-minutes register automatic chronograph that Seiko released back in 1969. Beating at 21,600 bph, it features start/stop and reset pushers on the right of the case and a crown located at 3 o'clock. This crown is used to set the time and to quick-set the date (short push) and the day (long push). This movement cannot be wound manually.
There were two versions of the 6139 movement: 6139A and 6139B. 6139B replaced 6139A around 1971. Furthermore, both of these versions were using either 17 or 21 jewels: my understanding is that Japanese-market watches featured 21 jewels, whereas timepieces for export had 17 jewels.
The first automatic chronograph?
You've probably read multiple articles about the debate which automatic chronograph was the very first to be released. In short, three companies introduced their automatic chronograph movements around the same moment: Zenith, Seiko and a consortium of Heuer, Breitling, Hamilton-Buren and Dubois-Depraz. There's still debate as to which caliber was the first to hit the market.
According to currently available information, first Zenith El Primero sales started in Q3 1969. The Chronomatic by Heuer & co. was delivered to stores in July 1969. Seiko's internal company report, dated May 1969, states that first models would be released in stores on the 21st of May 1969. Furthermore, thanks to caseback numbers it's fairly easy to date Seiko watches and there are quite a few watches manufactured in April, March and February 1969 (there's even one with January 1969 caseback number). In my opinion, this data is sufficient to say that Seiko 6139 was actually the first automatic chronograph to hit the shelves. You can read the full story here.
Seiko 6139 buying advice
Liked one of the models featured in this article and decided to buy a Seiko 6139 chronograph? Excellent idea, despite the recent increase in prices these still pack a lot of punch for the money. However, buying an original watch in good condition has become increasingly difficult, especially when it comes to the most popular models (such as the yellow dial Pogue).
Where to buy? eBay seems like the obvious choice, with hundreds of listings at any given time. You should be aware of the fact that quite a few of these listings are for watches that had some of their parts replaced. You can also have a look at private forum sales on venues such as Wrist Sushi or SCWF. The choice is more limited, but you may find some real gems there (some sellers list on forums before bringing their items to eBay). Another option is a specialized vintage watch dealer. You'll most likely pay a premium to the market price, but your watch will be serviced by a professional and most likely 100% original.
Here is some general advice on buying your vintage Seiko:
Do your research. This is by far the most important piece of advice. Read up everything you can find on the model number you're considering. Dial variations, hands, crown and pushers, caseback… I recommend you make sure every single element is correct. Instagram is a wealth of knowledge for this purpose, you can make a search using a hashtag to find all the posts for a specific model number. Like this: #seiko61397012.
Carefully examine the pictures of the case. Many watch cases have been heavily polished and lost their original finishing and sharp edges. This is something that can't really be fixed.
Pay special attention to the mechanical state of the watch. Does it keep time? What's the power reserve? Do the chronograph functions work? Can the seller provide timegrapher results? It's always preferable to buy watches that do not need a service, otherwise, you need to factor in service or repair costs (remember that repair is subject to parts availability… one of the watches I bought has been lying around for almost one year because I can't source a spare part – don't repeat my mistakes).
When reading a listing description, look for mentions such as "some parts may have been replaced or retouched". That's an immediate red flag.
"Extremely rare" and "100% All-original" in big letters are other dead giveaways: stay clear.
Sometimes you will see similar-looking watches listed at different prices. This is a tactic aimed at making you buy the cheapest one, thinking you got a good deal. Beware.
Remember that 100% feedback on eBay does not guarantee anything. Unfortunately, the feedback system can be easily gamed by shady sellers.
Use tools such as WatchRecon in order to check past listings for a particular model or set up alerts.
Social media platforms can also be leveraged to find a good deal. Some collectors sell their watches on Instagram (might be a good idea to follow some of them) or on Reddit (r/watchexchange).
Wrapping up
Hopefully you enjoyed this overview of available designs in the Seiko 6139 line-up. Perhaps you even discovered one you didn't know about (I certainly did during my research for this article).
Which one is your favorite from the lot? Feel free to add a comment below and include a picture of your 6139!
Further reading : check out our vintage Seiko chronograph reference guides
Bonus: catalog scans
In this section, I extracted all pictures of 6139 chronographs from various Seiko catalogs I found online. If you have some pictures that could be added here, please get in touch!
Click on the pictures to enlarge.
Japanese catalogs
Seiko 6139 chronographs in Japanese catalogs
International catalogs
Seiko 6139 chronographs in international catalogs
Dennis is the founder and editor of Vintage Watch Inc. Passionate about Soviet and Japanese vintage timepieces and a finance professional by day, he proudly wears a Seiko Pogue with his suit.