If you enjoy collecting vintage watches, you will want to check into adding some timepieces by Wittnauer to your collection.
Not all that familiar with Wittnauer? You're not alone. Many people are unfamiliar with this watch brand, despite the important role it has played in watchmaking history in the US.
Wittnauer is an American watch brand, but it was founded by a Swiss immigrant. That means that while these watches were marketed toward Americans, they incorporated elements of Swiss watch design.
It is a pity that the brand became more and more obscure starting in the 1970s and continuing ever since. You will see that Wittnauer had a lot to offer.
In this article, we will explore the history and development of Wittnauer. We will then talk about some iconic Wittnauer vintage watches, and we will discuss collecting Wittnauer watches today.
Albert Wittnauer Launches the A. Wittnauer Company
Albert Wittnauer was 16 years old when he immigrated to New York City from Switzerland in 1872. At the time, he was employed by Swiss watch importer Eugene Robert, who was his brother-in-law. Robert's company imported Swiss watches and movements (notably Longines).
While the Swiss watches which they imported were popular with American buyers, they were also expensive since they were heavily taxed in the US. That was when Wittnauer had an idea. If similar watches were assembled domestically or produced by their own subsidiary in Switzerland, they could be sold at significantly lower prices while still offering the same level of quality.
In 1880, Wittnauer embarked into the American watch market with his first line of watches under the brand "Wittnauer". It was an instant hit. Several years later, in 1888, Albert took over Eugene's company and renamed it as A. Wittnauer Company.
The company saw steady growth going into the turn of the century. After Albert Wittnauer and his brothers passed, Martha Wittnauer took over the company. This was a historical first, as no other woman prior to her had ever been CEO of a watch company before.
Martha was in charge of the company between 1916 and 1936. During her time as CEO, she encouraged Wittnauer's involvement with the aviation industry as well as with the world of sports. Featuring water resistance and high precision, Wittnauer watches were recognized by the US Olympic Committee and the American Expeditionary Force servicemen during World War I. Since 1936, when the company changed hands, the Wittnauer family is no longer involved in the business.
Wittnauer Watches: The Timeline
In order to better understand the history of this brand, it is useful to know the key dates, often corresponding to subsequent changes of owners:
1866-1867: J. Eugène Robert Company of importing watches is founded.
1872: Albert Charles Wittnauer starts working for J. Eugène Robert Company.
1880: the Wittnauer watch brand is created by J. Eugène Robert Company.
1888: Albert Wittnauer takes over J. Eugène Robert Company and renames it as A. Wittnauer Company.
1916: after the death of Albert Wittnauer and his brothers, Martha Wittnauer becomes CEO of A. Wittnauer Company.
1936: the company is sold by the Wittnauer family to Hella Deltah Company (a manufacturer of pearls), name is changed to Longines-Wittnauer Watch Company.
1969: Longines-Wittnauer Watch Company is sold to Westinghouse Electric Corporation.
1994: company is renamed to Wittnauer International Inc following the end of distribution agreement with Longines.
1996: Wittnauer International Inc is acquired by Robert L. Coleman and Charles D. Watkins (Composite Resources).
2001: Bulova acquires Wittnauer International Inc.
Connection between Wittnauer and Longines
A. Wittnauer Company's main business was importing watches from different brands to the US. Among those brands, there was obviously Longines, but also Vacheron & Constantin and LeCoultre. The watch brand Wittnauer was the "house brand" of A. Wittnauer Company, positioned in different marketing materials as the "next best thing to Longines".
In terms of quality, Wittnauer watches were rather good (otherwise they wouldn't be popular with aviators and military personnel) and definitely comparable to renowned Swiss brands.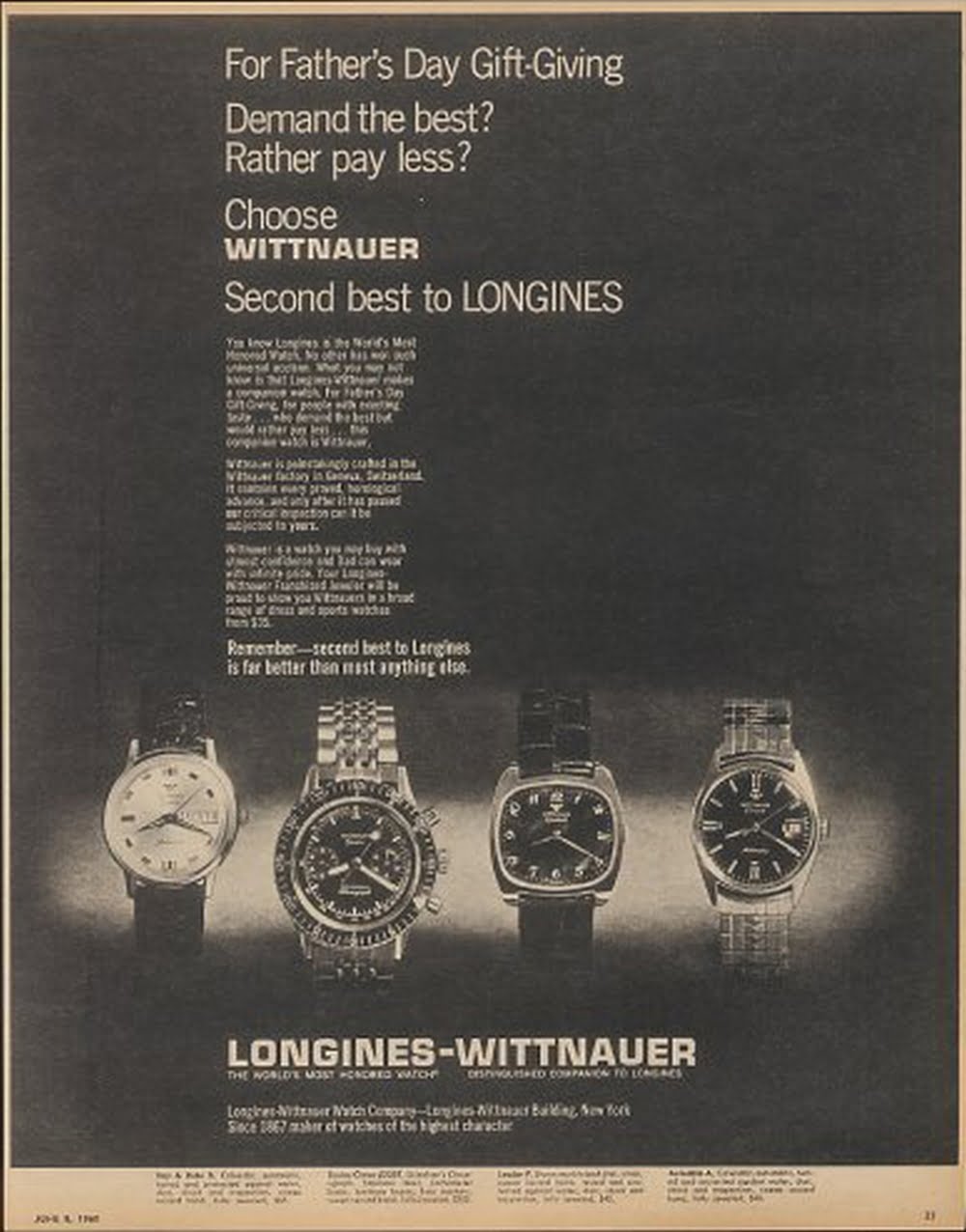 It's interesting to note that Longines-Wittnauer Watch Company doesn't seem to have ever been owned by Longines, although this fact is stated in Wikipedia and some other sources.
Wittnauer Works with the Navy and Aviation
Initially, most of the military watches which the company produced were for the US Navy.
As aviation took off, Wittnauer watches began taking off with the current field, often on the wrists of pilots who were trying to set records.
Famously, Wittnauer created the instruments which were incorporated into the Lockheed Vega-5B which Amelia Earhart used to fly solo over the Atlantic in 1932. In doing so, she became the first woman to achieve that feat. So, that is yet another way in which Wittnauer played a significant role in history from a feminist point of view.
When aviator Jimmie Mattern tried to fly a Vega-5B around the world in 1933, he also wore a Wittnauer watch, specifically the AllProof. Neil Armstrong later wore this same watch (as in, the exact same watch) while on the Gemini 8 mission.
Back then, it seems unlikely anyone would have imagined Wittnauer's fame disappearing. Nonetheless, time would take its toll on this timepiece manufacturer, though not for a couple decades yet to come.
World War II: Military Watch Manufacturing by Wittnauer Continues
Jumping back in time a bit again from Gemini 8, WWII presented opportunities for Wittnauer to thrive, expanding its production into compasses.
Indeed, if compasses interest you, you can collect these, just as you can Wittnauer watches.
It was in 1950 during the post-war period that Wittnauer was acquired by Longines, a Swiss luxury watch manufacturer. During this time period, Wittnauer under Longines produced sports chronographs, perpetual calendar watches, and other intriguing timepieces.
Wittnauer's Popularity Declines
So, what happened to make Wittnauer all but disappear from the public radar? It seems that starting in the 70s and continuing into the 80s, Wittnauer-Longines became stagnant. In 1994, SMH (owner of Longines which would become The Swatch Group later on) took over the distribution of Longines watches in the US and Wittnauer was left to go its separate way as Wittnauer International Inc.
Wittnauer didn't thrive on its own, and was purchased a couple years later by Composite Resources LLC. After losing $5 million, Composite Resources came under fire for legal reasons. Bulova then went on to purchase it in 2001 for $11.6 million, and still owns it today.
There are modern Bulova watches marketed under the name "Wittnauer," but suffice to say, Wittnauer lost its identity a long time ago. It has become a fashion brand, commonly seen in department and discount stores since decades.
Indeed, one imagines that if Wittnauer had shut down entirely back in the 80s or 90s, ironically, it might be better known today as a legendary-but-defunct watch brand, strongly linked to aviation and military history.
Collectors might say, "Ah, if only Wittnauer had lasted longer, imagine what they could have brought into the world …"
But because the company slid into a gradual decline, ironically, it traded in the status of a short-lived legend for one of languishing, lingering obscurity.
Iconic Wittnauer Vintage Watches
Now that we have explored the history of the Wittnauer watch company, let's check out some of the iconic Wittnauer vintage watches.
Wittnauer AllProof
When Wittnauer's famous AllProof came out in 1918, it was marketed with the claim, "dropped 3400 feet from an aeroplane – exposed to rain for 30 hours and still running perfectly." Note that AllProof seems to be spelled "AllProof" by some people and "All-Proof" by others.
The reason this watch is famous goes beyond its design to encompass its history. As mentioned earlier, Jimmie Mattern was wearing this watch when he was trying to circumnavigate the globe in an airplane in 1933.
Mattern worked with Buzz Aldrin's father, engineer Ed Aldrin, which is how and why he had Mattern's watch later on Gemini 8. So, if you are into aviation and spaceflight history, an AllProof is a very cool watch to collect.
In terms of appearance, the AllProof, during its many reincarnations throughout the years, has usually been very simple, like the gorgeous silver dial version from the 1960s pictured above.
Wittnauer Futurama 1000
If you are in the market for an unusual watch that will become a ready conversation piece, look no further than the bizarre Wittnauer Futurama 1000 from 1970, powered by the Swiss ETA 2784.
The 33mm x 48mm gold-plated case has a long, rectangular shape with curved edges. One side is straight, while the other has a gentle arc. The retrograde display is along an arc instead of a circle.
Basically, Wittnauer seems to have entirely re-imagined the watch when creating the Futurama 1000. Whether you find the result gorgeous or gaudy probably depends on your tastes.
In any case, it isn't easy to come by this watch. If you do, you will pay a pretty penny for it, but it is worth it for such a unique addition to your collection.
Wittnauer Vintage Chronographs
Particularly popular with collectors, vintage chronographs by Wittnauer can provide exceptional value, like this piece with an exotic dial.
Housed in stainless steel cases and powered by the best Swiss chronograph movements of the time, Wittnauer vintage chronographs are a more affordable alternative to equivalent watches from brands such as Longines or Heuer. Here's another example with a gorgeous and exceptionally well-preserved cream dial:
Wittnauer 2000
Another intriguing watch from the 70s is the Wittnauer 2000. This watch measures 42mm without crown, making it pretty hefty for a vintage watch. White print contrasts with a dark dial for a look which is elegant and easy-to-read (there were other color schemes as well).
Perhaps what stands out the most about this watch is its internal workings. The perpetual calendar feature employs simple mechanics, which allowed Wittnauer to price this watch more economically than many competing perpetual calendar timepieces. You may notice some similarities with the Orient Multi-Year Calendar and the Raketa Perpetual Calendar… You can find more information about the Wittnauer 2000 in this article.
Wittnauer Watches Today
If you are a beginning watch collector and you are hunting for bargains on beautiful classic timepieces, Wittnauer is a great brand to pursue.
Some of their rarer watches are expensive—indeed, I recently spotted the Futurama 1000 for sale for $1,500.
But the majority of their watches are listed at much lower prices. In fact, quite a few of them are available for under $100.
This is not surprising, it might affect that there are two simple reasons why Wittnauer watches are affordable, and neither reflect a lack of quality.
The first is that, as we talked about, Wittnauer used smart importing and assembling processes to deliberately design Swiss watches with an American connection which were more affordable at the time than many of those already on the market.
The second is that Wittnauer's slide into obscurity means that there is a lower demand for Wittnauer vintage watches in general, as many collectors are not all that familiar with the brand.
Their loss can be your gain. You now have an overview of Wittnauer's history, but there are many stories worth exploring in detail. Purchasing a vintage Wittnauer watch is your chance to pick up an affordable piece of Swiss-American watchmaking and aviation history.
References
largevintagewatches.blogspot.com, History of the Wittnauer watch brand & Wittnauer 2000 and 2002
archive.org, Wittnauer history on the old Bulova website
forums.watchuseek.com, What's the connection between Longines and Wittnauer?
Dennis is the founder and editor of Vintage Watch Inc. Passionate about Soviet and Japanese vintage timepieces and a finance professional by day, he proudly wears a Seiko Pogue with his suit.