Switzerland is famous for many things, foremost among them chocolate and cheese—but there's a whole lot more to the story than fondue. Switzerland's location has created the perfect meeting place for German craftsmanship, Italian design, and French charm to come together in creating masterful timepieces, like those crafted by Universal Genève.
Founded by master horologists in the birthplace of watchmaking
Universal Genève SA began as Universal Watch in 1894, at a time when most of the world was shifting into industrialization and mass production. From the very start, Universal Genève was dedicated to producing quality pieces with a unique appeal. Their watches adorned the wrists of discerning and fashionable elite who prized both style and craftsmanship.
Ulysse Perret and Numa-Emile Descombes founded the company in the Swiss township of Le Locle, which has long been known as a center for watchmaking. Some critics have even suggested this sleepy yet charming municipality set in the mountains is the birthplace of the watchmaking industry.
It was the perfect setting for these two master horologists to put their expertise together and start retailing watch parts—among them cases, dials, and movements. It was under the leadership of Perret and Descombes that Universal made their first 24-hour watch—a watch type today that is still used by doctors, pilots, soldiers, and even astronauts.
From the trenches to the Big Apple
Descombes passed away just three years after the founding of the company, and Perret began to partner with Louis Edouard Berthoud to create pocket watches and trench watches for both sides of the conflict in the First World War. Trench watches were an interesting "missing link" in the evolution of timepieces from pocket watches (impractical in combat) to the wrist watches we recognize today.
The duo moved their company to Geneva and renamed it Universal Watch et Company (UWEC) Genève, Ltd. Some years after the war, while continental Europe was in a state of recovery and repair, they patented a self-winding watch, the Auto Rem. The octagonal timepiece had elegantly shaped lozenge hands that were powered by a 15-jewel mechanism.
By this time, the pocketwatch had fallen out of vogue, and the more practical wristwatch had become the norm. Universal—like any good company managed by visionaries—jumped on the opportunity and began manufacturing its Compur and Aero Compax watches in the 1930s.
These watches featured the standard smooth sweep of automatic watches, but the eternally fluid motion of the hands around the face contrasted nicely with a built-in stopwatch, which made the Aero Compax the mechanical darling of the military. The Aero Compax saw many iterations, such as the Moon Phase, Medico, and Master Vortex.
It was during this period that Universal collaborated with Parisian designer Hermès International S.A—a luxury manufacturer that was born just a few decades before Universal.
Though Universal had already been manufacturing chronographs (namely, the Aero Compax), their collaborative effort with Hermès resulted in a more readable design with large Arabic numerals, and balance springs manufactured by Breguet, a company that had serviced elites like Queen Victoria, Napoleon, Winston Churchill, and even Rachmaninoff.
Hermès became the premier outlet for Europe to obtain Universal watches, while the Henri Stern Watch Agency of New York City would distribute them in the United States. By this point, Universal Genève timepieces were garnering much-deserved attention the world over.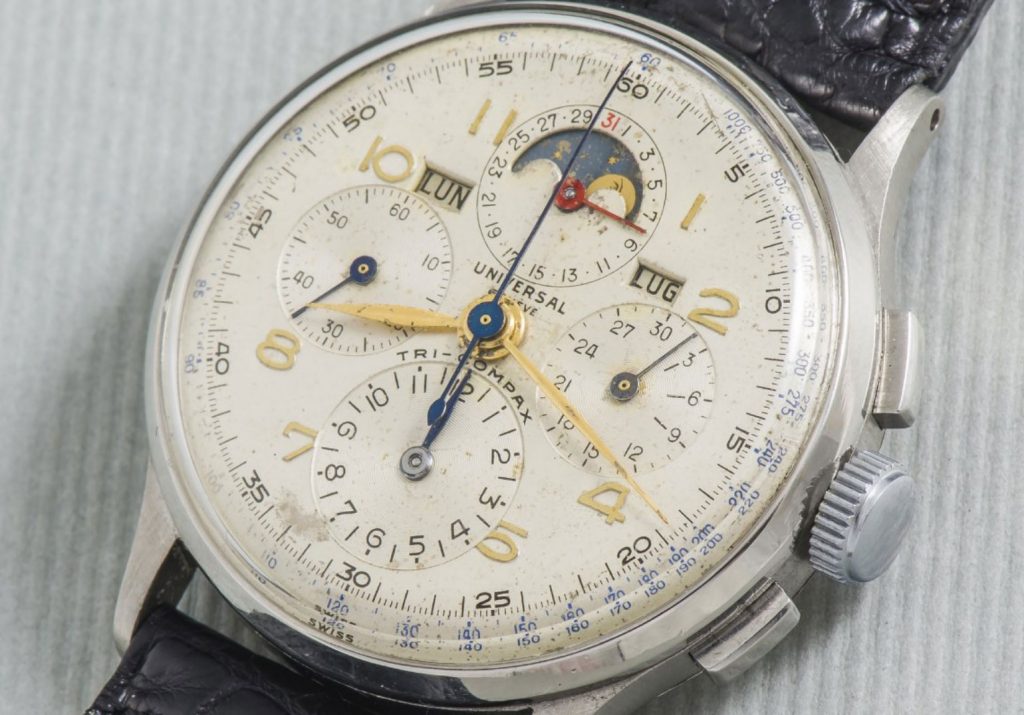 A royal calling and new opportunities
The Dutch Royal family was not immune to the echoes of accolade over Universal's workmanship. They gave the company an exclusive contract to manufacture timepieces for the Dutch military, and soldiers wore these timepieces—with Queen Wilhelmina's embossed initials—until the Nazi invasion of 1944.
In addition to their military contracts, Universal created art-deco watches that were geared toward women. The Couture Diamond watch was an exemplary accessory from the age of aerodynamic design, and graced the wrists of actresses, socialites, and wives of the political elite. The dial came in three flavors (gold, stainless steel, and platinum), was ringed with diamonds, and featured a mother-of-pearl inlay. This beautiful timepiece was sold in high-end boutiques and earned Universal the accolade of watch couturier.
After the second World War, Universal began to manufacture watches that were the brainchild of luxury designer you may have heard about: Gerald Genta. The Polerouter was produced through the 1950s and 60s, and was a go-to timepiece for pilots of Scandinavian Airlines, who made routine flights over the north pole. Their selection of the Polerouter was not merely for style; the watch was able to handle fluctuations in temperature and air pressure. Its durability was a feature common to all its various iterations, including a diver's watch called Polerouter Sub.
Universal also manufactured automatic wristwatches that had the thinnest movements in the world, a record they held until almost 1980. Golden Shadow and White Shadow, also designed by Genta, were available in 18K yellow and white gold (Golden Shadow) and stainless steel (White Shadow). During this era, the status of Universal as a family-owned business shifted as they were purchased by Bulova. Though the American watch brand transformed the nature of the company, they opened the door to collaborative efforts with other brands like Tiffany, Cartier, and Movado.
In response to the quartz crisis
In the 1970s and 80s, mass produced electronic watches created some powerful competition for traditional watchmakers. Universal made the decision to phase out of automatic watches and begin manufacturing timepieces powered by quartz oscillators, one of many companies to do so in a period that has been termed "the quartz crisis."
This decision, spurred by an increasingly competitive marketplace flooded by Asian-made watches, made Universal loose some of its backing capital and popularity, though Forbes still continued to rank the business alongside Rolex.
After the 1990s, Universal began to make a comeback by manufacturing watches with micro-roto calibers that hailed back to the company's earliest days of Perret and Descombes.
Universal was purchased in the late 1980s by Stelux Holdings International, Ltd, a Hong-Kong based investment firm that also owns other high-end Swiss watchmaking companies. Even so, Universal is still a member of the Federation of the Swiss Watch Industry and maintains operations in Switzerland.
So what are they worth, and who's wearing them?
Universal watches from the 1960s have been valued by authorities such as Business Week between $2,500 and $3,500. The Golden Janus, of which only 150 have been produced, has fetched prices well over $50,000. The A. Cairelli Rattrapante, a 24-hour dial piece made for the Italian Royal Air Force, has been sold through venues like Christie's and Sotheby's for up to $130,000.
Switzerland's neutral stance in world events have led to their timepieces finding their way around the world, and many celebrities, athletes, politicians, and musicians have donned Universal timepieces.
Formula One racer Ayrton Senna da Silva (1960 to 1994), Simon & Schuster editor-in-chief Michael Korda, US Presidents Harry Truman and… Donald Trump, filmmaker Jean Cocteau, actors Jon Voight and Joan Rivers, and rock legend Eric Clapton have all donned Universal watches during their careers.
Again, because of Swiss neutrality some infamous figures have also carried the brand on their wrists, including Nazi leader Hermann Göring, who reportedly gave his Universal watch to guard Jack Wheelis as a bribe for a cyanide pill to escape the hangman's noose—though the Wheelis family maintains it was a friendly gift.
Today, watch enthusiasts can find the brand on marketplaces as diverse as eBay and Sotheby's, along with select finds in a hit-or-miss safari through luxury boutiques. But Universal must have something in the works—at the time of this article, a website is up, a copyright is dated to the current year (2019) and an announcement of "coming soon" graces the homepage.
Further reading : learn more about other prominent watch brands
Dennis is the founder and editor of Vintage Watch Inc. Passionate about Soviet and Japanese vintage timepieces and a finance professional by day, he proudly wears a Seiko Pogue with his suit.