The Basics
Watches have always been intrinsically linked to the European history of the last centuries and for us – vintage fans – they represent the silent testimony of the historical events that occurred in Europe and elsewhere and the personal stories linked to those events. In this article, we are focusing on a special type of watches which, due to their primary conception as functional tools, represent the victory of utility over the mere aesthetical component present in many other types of watches. We are referring to military watches and their not always understood legacy. In future articles, we will get deeper into the rabbit hole surrounding some of the most famous watches that military history has given to us and how most governments during different periods of time have understood the importance of watches as a vital part of the equipment that their respective armies needed to be able to face any sort of conflict.
For the average watch collector, or simply for those non-initiated in military watches and the wider watch community in general, the interest in military watches has often been reduced to the study of pilot pieces introduced by some renowned brands mainly from the 50's onwards. Pilot watches, with bigger diameters, sometimes cool GMT complications, tachymeters, telemeters and often with more aesthetically pleasing cases, seemed like the perfect tool watch for those avid to wear on their wrists a small testimony of military equipment.
However, military watches, the real ones designed to be worn by soldiers on the battlefield, were pieces manufactured with robustness and utility in mind and which, due to the special requirements of their time and circumstances, often had to learn to live without the refinements and aesthetical concessions of their more luxurious civilian counterparts. Today every serious collector knows luxury Swiss brands such as Rolex, Omega, Longines, Jaeger-LeCoultre, Eterna or Ebel and their watches are coveted pieces in any collection. However not every collector knows that relatively unknown watches from those same brands, and many others lost in the oblivion, were worn by anonymous soldiers in the most important military conflicts that profoundly marked the XXth Century. This article is a humble tribute to the memory of those soldiers, their lives, experiences and the faithful companions they always wore on their wrists during those turbulent times.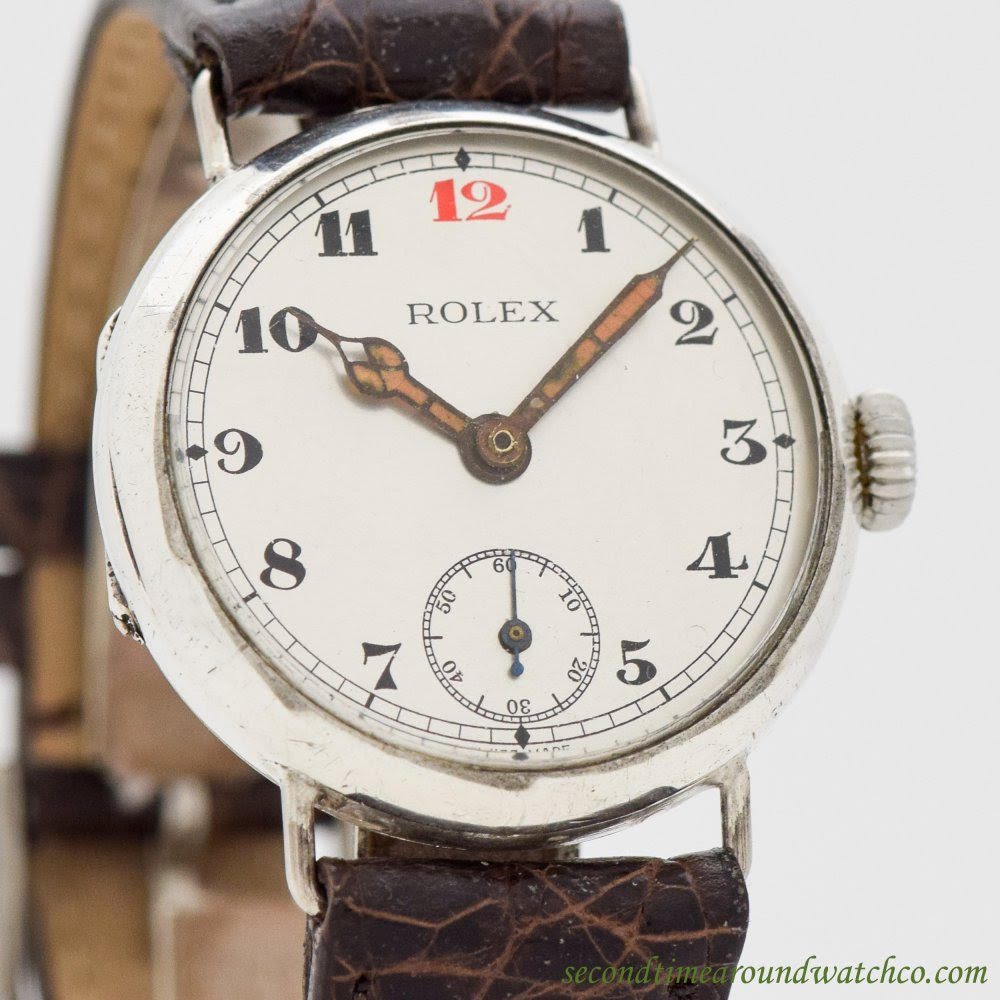 How to identify a military watch
Whereas in the first half of the XXth Century civilian watches were often designed as an accessory whose main function was to show off the status of the wearer, and where precious metals and complicated dials were common, military watches were all about simplicity, frugality and above all, legibility. These were small-sized watches for today's standards, anywhere between 28mm and 34mm, although at later points in time diameter sizes increased progressively. In such small cases and dials, there was little room for anything but the necessary. Furthermore, brands manufacturing this type of watches could not freely design them as often production orders came from governments as part of tenders where most construction details had already been fixed beforehand.
Some of the most common features of this time, apart from the already mentioned case diameters, were:
Usually nickel-chromed or stainless steel case
Usually black and often unsigned dial (let's remember brands were not important on the battlefield), although white, brown or even salmon dials can also be found
Relatively big crown in comparison to the case size in order to be easily used even while wearing gloves
Relatively big Arabic numerals and thick hands to help read the time even in darker conditions
Generous amounts of Radium as luminous material on numerals and hands to improve readability
Small seconds at 6:00. Central seconds started to be generalized in the second half of the XXth Century
The so-called minute rail track on the outer side of the dial
Relatively straight-forward but robust hand-wound movements, easily serviceable (15 or 17 jewels movements and 18.000 v/h were a constant)
A governmental identification or issuing number on the case back to be able to track the watches (and some add here that the real purpose was to be able to identify a fallen soldier by his watch ID number even if his body could not be identified)
Very often the spring bars were fixed and the watches were equipped with fabric straps (nato straps are a later invention)
Given the time already passed and the simplicity of some of the watch cases of that time, especially the nickel-chromed ones, many pieces have arrived to our days in relatively bad condition. Again, although nowadays truthfulness to the original is one of the most sought after qualities by collectors in any vintage watch, we should not forget that military watches often had to be urgently repaired on the battlefield by soldier watchmakers who had as main mission to make them work again without paying attention to the originality of the parts they were using. That is the main reason why it is not easy to find military watches used in WWI or WWII conserving all their original parts.
We hope that for those of you not familiar with these watches before, this article could awake some interest and we encourage you to read further articles we plan to write in the future in order to get deeper into the world of military timepieces.
A full-time Trader in the Petrochemicals Commodity sector and part-time university lecturer based in Düsseldorf (GER), Santiago has developed over the years a real obsession for all-things watches, especially vintage mechanical ones. Although his ever growing collection includes many different watch styles and time periods, his biggest passions at this moment are vintage military watches and chronographs, and King and Grand Seikos from the 70's. After all he likes to say he's on a long-term quest to become a well-rounded watch "connoisseur".