Are you a world traveller? Or do you simply have a sense of wanderlust? Whatever the case may be, it can be both convenient and exciting to be able to check the time around the world just by glancing at your wrist.
You can do it in style with a vintage world time watch. Many brands both popular and obscure have crafted beautiful, efficient, and sturdy world timepieces over the decades as far back as the 1930s.
In this guide, we will introduce you to some magnificent world time watches from brands like LeCoultre, Raketa, Seiko, Enicar, and others.
Tissot Navigator World Time
One of the most distinctive-looking world time watches you will find is the Tissot Navigator World Time, a beautiful timepiece that dates back to 1953, and which was manufactured through the 60s.
Earlier watches in this line featured a pusher system, while later watches in this line featured a rotating inner bezel. The Tissot Caliber 28.5N-21T automatic bumper-wind movement inside is unique to Tissot Navigator watches.
Rather than listing the names of cities around a bezel, this watch lists them in a radial format around the face, like spokes on a wheel.
A simple, clear font and a plain white backdrop prevent visual clutter. Despite the amount of writing on the dial, the look of this watch is very clean and elegant. The black and gold hands add to the striking appearance.
The hours are represented by gold numbers for the even numbers 2-24, and markers for the odd numbers between them.
It is common for Tissot Navigator World Time watches to sell for thousands of dollars.
Seiko 6117-6400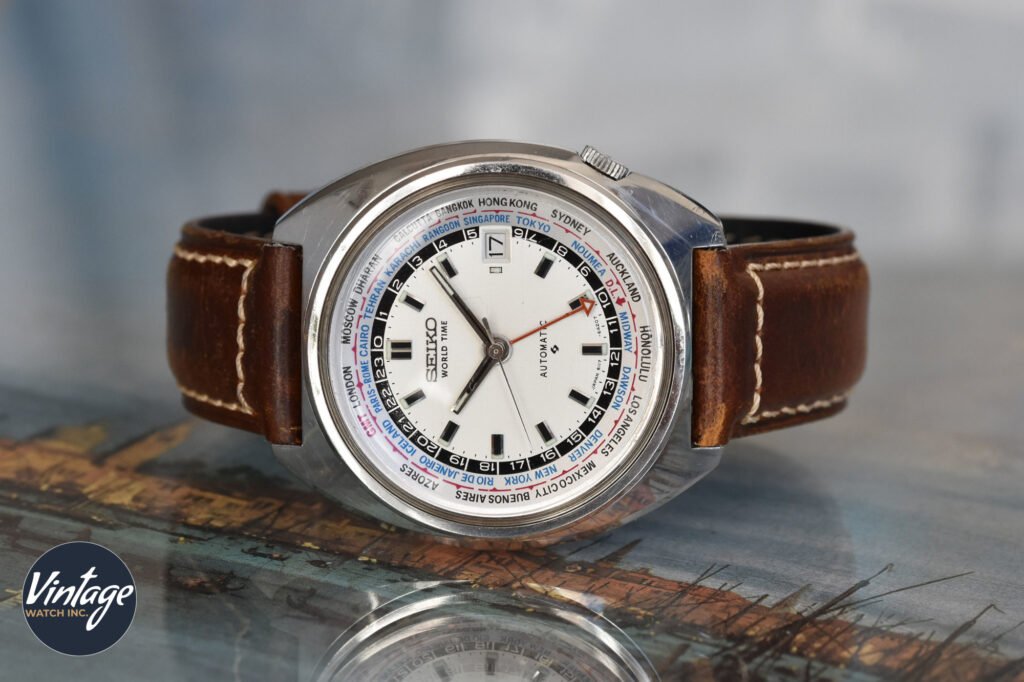 For a Japanese vintage watch that tells time around the world, you can consider the Seiko 6117 timepieces made in the 1960s and 1970s. These watches were made with black and white dials, and featured a prominent red GMT hand. You may also occasionally run across a version that features a grey linen dial, but this is relatively rare.
What is great about this watch is how readable it is. The clear font makes it easy to see all the city names effortlessly. Both the inner workings and the dials of these watches have a reputation for aging well, remaining in excellent condition decades later. As they are highly-coveted by collectors, they tend to command a high price on the market. You can expect to pay at least several hundred dollars for the Seiko 6117. Sometimes they go for more than $1,000.
Raketa World Time
If you enjoy vintage Soviet watches, you may be interested in the Raketa World Time, also called the Goroda (Города: "cities"). You'll find Raketa World Time watches from the 80s and the 90s. The dials came in blue, bordeaux (red), green, and chocolate brown. The bordeaux dial is my favorite. As for the inner workings, the manual-wind 19 jewels movement Raketa 2628.H powers this watch.
While this is a stylish watch, it isn't the easiest to use. Hypothetically, you can turn the bezel to compare the time between two cities. But you'll usually find the results are inaccurate. Why? Changes over the course of history as well as Daylight Savings Time means you will not get true results (this is a common issue for vintage worldtimers). You also will need to be able to translate the Cyrillic for the names of the cities.
If you are looking for a detailed review of this watch and its known variants, you can check out our full guide to the Raketa Goroda.
Lecoultre Shark Deep Sea Chronograph
Next up, we have a vintage world time watch that is also a chronograph. The LeCoultre E 2643, better known as the "Shark Deep Sea Chronograph" in the US and the "Vogue Chronograph" in Europe, is a rare and eye-catching piece.
The reverse panda dial features white sub-dials on a black backdrop and white text around the black bezel. The high contrast makes for great legibility even with the small print.
This watch dates back to the 60s, but its look is distinctly modern, a harbinger of watch styles that would follow. It has a couple of noteworthy features. First of all, it is water-resistant. Secondly, the bezel can be switched out for others.
If you are purchasing it to serve as a world time watch, obviously the world time bezel is likely to be of the greatest interest to you. But you can remove it if you want and put in a diver's bezel or a telemeter bezel. Few other watches from that era were so adaptable.
Citizen Worldtimer (GMT) 68-0516
Here is another watch that despite being a 1970s vintage timepiece looks and feels distinctly modern. The Citizen Worldtimer features a beautiful stainless steel cushion-shaped case and a face that may be black, white, or metallic silver. The blue half of the 24-hours ring as well as the bright green lume on the hours and the hands really "pops."
Functionally speaking, the addition of a fourth hand in red adds to this watch. It is a 24-hour hand, and you can use it to help you with the world time function. You just need to align your time zone directly across from the hand. After that, just check the city you are interested in. The 24-hours ring will display the correct time.
Caravelle Pilot World Time
If you are looking for a vintage world time watch that is sleek, elegant, and understated, the Caravelle Pilot World Time from the 60s is sure to impress. This beautiful watch features a stainless steel case with a mesh bracelet. Inside is the self-winding automatic Caravelle cal. 11 OKACB movement. Not familiar with the Caravelle brand? It is a Bulova Watch Co. division.
The matte black dial has a clean, minimalist look with simple hour markers instead of numbers and little in the way of text. For those who prize subtlety, this watch's clutter-free appearance is a major part of its appeal. But its sophisticated style is matched by excellent functionality.
The day of the week and the date are featured in a display at 3 o'clock. There is a silver tension ring displaying the 24 hours of the day, and around that, a black bezel with contrasting silver and orange city names.
Zodiac Aerospace World Time
The Zodiac Aerospace World Time is a version of the brand's Aerospace GMT watch. There were a number of different variations on the Aerospace GMT, among them the 752-934 series.
The 752-934B World Time model also was made with variations. Originally, the bezel just listed one ring of cities. Subsequent variations included two rings of cities. The watch face is gray, and there is a red 24-hour hand. You may encounter different bezel colors, however, like black or red.
Wittnauer World Time Chronograph 7004B
Wittnauer is not the most well-known watch brand, but it was one of the most important ones in US history. Watches by this brand featured Swiss design elements, but were manufactured in America.
As such, they were high in quality and affordable for American customers.
The Wittnauer World Time Chronograph 7004B featured a Landeron caliber 248 movement inside a 40mm case, making it similar to the more recognizable 7004A chronograph by the same brand.
The 7004B came with either a white or metallic watch face, and included a pair of sub-dials in the same color with the hours in small red print and the city names on a black bezel.
If you prefer a black watch face, you can consider the 7004A, which again, is very close to the 7004B.
Enicar Sherpa Guide World Time
The Sherpa family of watches from Enicar derives its name from the company's involvement in a Swiss trek up Mount Everest in November 1956. One of the company's watches was the official one for the expedition.
Numerous types of Sherpa watches were made for different purposes. There was a Sherpa Diver watch, a Sherpa GMT watch, a Sherpa Date watch, and the Sherpa World Timer watch.
Indeed, the Sherpa Guide World Time watch has an extra hand for setting a second time zone and also includes a GMT complication. It comes in a hefty stainless steel super compressor case. The inner rotating 24-hour bezel comes in a variety of different vibrant colors to contrast with the black dial, and around that is a rotating black outer bezel with 40 cities. The pointer ring comes in orange or red.
With the color variations for the inner bezel, if you hunt around, you should be able to find one which is perfect for your tastes. Whatever you choose, this is a watch that stands out on your wrist.
All of the features above already make the Enicar Sherpa Guide World Time an impressive watch, but there is more! As a super compressor watch, this timepiece doubles as a diver watch. It also triples as a pilot watch.
So, with the Sherpa Guide World Time, you will be ready to travel the world, summiting heights, flying the skies, or plumbing the depths. Wherever you go, your trusty watch will be there to help you tell the time.
Patek Philippe 2523
Many of the watches on this list sell for a couple thousand dollars on average. While that might be out of range for a starting collector on a tight budget, it is reasonable for the level of quality and functionality these watches offer.
But here is a vintage world time watch that will make every other watch on this list look cheap by comparison. The Patek Philippe 2523 is essentially a legend. The earliest 2523 watches from this brand showed up in 1953. With it, the company introduced its two-crown system. The dials on these watches are all made by hand, and are stunning to behold.
Just how much do they cost? Let's look at a couple of examples. To start with, this Patek Philippe 2523 world timer sold for $5,545,999, and features a rose gold case and hands and a dial with a neutral color and an elegant, subtle pattern. Half of the bezel for the hours is in that same color while the other half is dark to denote night and day.
As the article explains, there were just four rose gold Philippe 2523 world timers with guilloché dials ever made.
This article describes another Philippe 2523 rose gold world timer which includes a dial in blue enamel. It sold for an astounding HKD 70,175,00. In American dollars, that was around $8,967,380.
This watch has a beautiful 3D effect, because its dial is not one flat plane. The center featuring the blue enamel, the hands, and Roman numerals on a gold disc (I-XII) is raised up above the 24-hour bezel below it (once again half light, half dark). The cities are around that.
Tissot T-12 Navigator Seastar
Earlier, we shared the Tissot Navigator World Time with its radial cities. Here is another Tissot worldtimer to consider, the T-12 Navigator 24-Hour watch.
This 42.5mm watch features a steel case with a lot of heft to it. The sheer size of this watch is eye-catching, but so is the dial, with the upper hemisphere metallic and the lower hemisphere dark blue.
One thing to note about this watch is that the dark blue color tends to fade. So, usually you will see this watch for sale with the bottom half looking more of a medium to light gray, or even a kind of bronze hue. Even if you find a severely faded watch, you will still be astounded by its beauty. Around the perimeter you will see the cities on a dark blue bezel. Unlike the blue on the dial, the blue on the bezel is not prone to fading.
Conclusion: vintage world time watches are cool
As you can see, throughout the decades and around the globe, vintage watch manufacturers have crafted impressive world time watches.
The vintage world timepieces we have just shared are stunning to behold, and you can find examples on the market that continue to run beautifully even after all these decades.
Adding a world time watch to your collection means bringing functionality and style to your wrist or your display case while feeding your inner wanderlust.
Do you own a cool vintage world time watch? Please share it with us in the comments area!