The following Guide has been compiled to amalgamate all current information regarding the НВЧ-30. It also includes my findings over many years of collecting and researching these watches. As much information as possible has been drawn from documentation or first-hand accounts. This guide will continue to be updated as new information becomes available. Most images are clickable.
(Matt Brace, 2019)
NVCH-30 History
The initial conception of the Vostok "Amphibia" diver's watch at the Chistopol Watch Factory in 1967 is well documented. The watch's designers, Mikhail Novikov & Vera Belov, were tasked with creating a new, reliable diver's watch that could withstand pressure and temperature changes at depths of up to 200 meters.
What came next was a new challenge: designing a military-grade tool watch that could withstand even greater depths. Officially the НВЧ-30 (Наручные Водолазные Часы 30; Divers Wrist Watch 30 ATM), the watch is today more commonly known by its translated literal abbreviation: NVCh-30.
Soviet naval officials first approached the watch industry research institute (NII-CHASPROM) with this requirement. They were forwarded to the Chistopol Watch Factory that was, at the time, producing stainless steel "Amphibia" models. A ministry contract was awarded following factory testing and trials. Exact dates for the initial testing phase are unclear, but by 1971, the new 300m tool watch was in production.
It should be noted that the Soviet Navy already had at least one dive watch in use. The Zlatoust Vodolaz 191-ChS (pictured, below) had been in production since the early 1950s, but by 1974, production was near its end.
NVCH-30 In Use
Initial trials of the НВЧ-30 are documented in an interview with its chief creators.
The watches were tested at maximum depths of more than 100 meters, though they were really intended for other purposes. Deep-water divers maintain continuous communication with the ship, and in their heavy equipment, it is simply inconvenient to look at the watch at such depth.
From this statement, it can be inferred that the original purpose of using the watch during deep-water dives had altered. Naval hard-hat divers of the period were already using telephone communication systems, thus were less reliant on watches for timing. Pictured below is the UVS50 helmet for diving to depths of 60 meters. Also pictured is the GKS3m system which used a helium-oxygen mixture to achieve depths of 200 meters and, on rare occasions, 300 meters.
UVS50 diving helmet & GKS3m diving system / Photos courtesy of David Dekker: www.divescrap.com
To further understand what timing-equipment divers would have been using I made contact with David Dekker, a diving historian.
David was active in purchasing diving equipment after the fall of the Soviet Union. His direct contact with the naval dockyard at Saint Petersburg (formerly Leningrad) had promising results, and he imported many new and used hard-hat diving suits throughout the 1990s.
David only encountered the НВЧ-30 watch on a handful of occasions. The standard-issue deep-dive watch continued to be the Zlatoust Vodolaz 191-ChS, perhaps due to its robustness or its large size, which would have made it easier to read at depth. The Zlatoust certainly continued to be used for long periods after it ceased production.
It may be concluded that the Vostok НВЧ-30 was not entirely suited for use at extreme depths and, for a number of reasons, was not widely used. This posed a new question: who was using this watch?
UVS50 diving system description and a photograph of the telephone communications microphone and earpiece
For scuba divers and fighting swimmers, the НВЧ-30 was irreplaceable.
Naval Special Forces ("Spetsnaz"), Soviet Commando Frogmen, Navy Engineering Frogmen, and PDSS Navy Counter Attack Frogmen are all names that could be associated with Novikov's original statement above. A Diving and Engineering Troop Training Manual from 1980 gives documented evidence of the watch in use.
Pages 70 and 167 give detailed reference to the НВЧ-30 watch. In the diagram above a Nvch-30 is found on the diver's right wrist, indicated by the number 7. The diver pictured has a communications umbilical, weighted boots, and the IDA-71 rebreather. The same equipment was used by Spetsnaz and PDSS combat divers.
Page 167 is translated below:
Diver's wristwatch НВЧ-30 (picture 5.2) for checking the time spent underwater and current time. One full winding 40–45 hours. Size of watch 38x42x13 mm. Diver's wristwatch НВЧ-30 maximum depth of immersion 300m. Wristwatch mechanism placed in waterproof case in stainless steel. For better visibility underwater, the hour, minute, and second hands, and every 5-minute indices, are luminescent. Rotating bezel allows the diver to measure time under water.
A further Naval publication, last printed in 2004, also references the watch.
Coincidence or not, perhaps the early 1970's called for a new generation of combat-diving equipment and a new, modern, combat-friendly watch.
NVCH-30 Subtypes
НВЧ-30 watches can be divided into three generations based on age and design, but all follow the same basic principles. In comparison to the original Amphibia, the three areas of enhanced specification were the case, crystal, and caseback.
These were tool watches and fell into the same category as other equipment which was owned by the government and issued for on-board or land-based use. At no point did service personnel own an issued piece of equipment (including watches), although there are some rare instances of watches being awarded to individuals. Exact production numbers are currently unknown, but it is likely that thousands were produced.
Generation 1: Models 610/271 and 610/346
The earliest known, verifiable НВЧ-30 examples date from 1971. At this point, Vostok's stainless steel machining capabilities were still in their infancy, so cases were simply designed with separate strap-mounting lugs ("swing lugs"). Both pressed-steel and wire-type lugs were manufactured, and there is some debate over what type of mounting lugs came first. Of course, this is a removable part, so if one lug style became preferential over the other, it could have easily been changed during the service of the watch.
Studying documented NOS examples with matching paperwork leads me to the conclusion that the pressed lug examples arrived first. This was also the standard lug design in use on the civilian Case Type 350 200m Amphibia for its entire production.
Caseback thickness increased from 1.2mm on the standard Amphibia to 1.6mm on the 300m. Crystal thickness increased from 2.5mm to 3.9mm. The thickness of both the caseback and crystal would remain for all subsequent incarnations of the НВЧ-30.
The casebacks of first-generation examples were available in three slightly differing designs (see below). All featured similar wording: Hermetic (waterproof) 30 ATM Amphibia Movement (caliber) 2209 with Shockproof Balance. A directional bezel ring with five-minute indices allowed users to calculate dive times and/or air usage. The sterile dial is something that also remained largely unchanged throughout the entire production of the watch: luminescent indices at five minute intervals, the Vostok brand name, the jewel count (18, later 17) and "Made in CCCP".
First-generation examples used gold-plated, paddle-style hands (presumably for ease of viewing) and a colourized, red-finished seconds hand. This red colouring deteriorated over time and exposure to light, thus many examples today show all gold-finished hands. The small but robust caliber 2209 movement continued to be used until the late 1980s.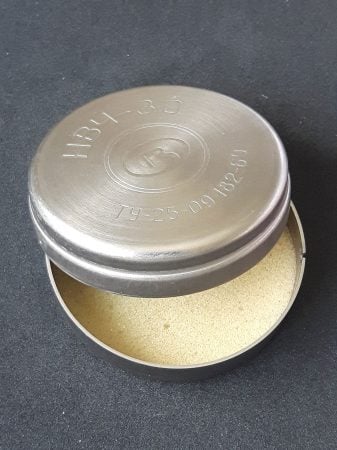 All watches were originally issued in a small storage container, typically made from pressed steel which was nickel-plated for corrosion resistance. Inside, a foam liner protected the watch. Paperwork was also presented in the form of a passport certificate.
Right, a typical storage container for a first-generation НВЧ-30. The lid is imprinted with НВЧ-30, the Vostok company logo, and the Soviet GOST state standard code.
Passport certificates were issued with all Soviet-era Vostok watches, whether for military or civilian use. As well as providing instructions on how to properly use the watch, passports are invaluable for dating matching examples. The "Watch Number" or "Mechanism Number" listed on a given passport should match either the number on the watch's movement beneath the balance (on earlier examples) or the number stamped into the watch's caseback (on later examples). Multiple date markings may seem superfluous, but each end of the certificate includes a voucher which could be cut off with scissors and returned with the watch for service or repair.
Laboratory Certificate No. 120, right, indicates that Watch No. 31523 was serviced or repaired by the workshop, tested by the laboratory, and deemed fit for use.
This certificate was returned with the watch as proof of service.
Critical details are listed as follows:
Average temperature during testing: 22˚C
Performance (dial up): +55 seconds
Performance (dial down): -55 seconds
The service was completed on October 14, 1985.
Generation 2: Models 119/0906 and 630/906
By 1979, Vostok's machining capabilities had vastly improved and a new Amphibia was in production. The Type-119 case (later Type-630) followed in the footsteps of many other barrel-cased type divers of the time. This watch featured a one-part case with a larger lug width of 22mm, as opposed to the 18mm lug width on the civilian watch. A new, more refined bezel timing ring was also introduced.
The earliest verifiable examples date from 1981, and later examples remained largely unchanged for the duration of their manufacturing run. A few notable changes to the second-generation model came in 1985, when the domed chrome-plated crown was replaced with a more robust and user-friendly stainless steel crown.
Left, a 1983 storage container for a second-generation НВЧ-30. Note the updated GOST state standard markings.
Right, an antimagnetic shield in use on a second-generation НВЧ-30 from 1983.
The dated paddle hands were also retired in 1985 and replaced with a new arrow-type hands, these were consistent with the updated civilian versions of the watch. The 2209 movement continued to be used.
Left, a second-generation НВЧ-30 passport.
Right, a later Workshop Certificate indicating the same watch was either serviced or repaired three years after original issue.
The second generation НВЧ-30 is certainly the most common subtype, and subtle case differences over the long production cycle exist. A general rule of thumb, the side profile of 300m cases are slightly thicker than civilian examples, with a smooth arc profile and minimal flat area. In the below comparison, the НВЧ-30 is on the right, while a civilian watch is on the left.
There is much debate over nuanced differences in case profiles, but having handled many examples over the years, I no longer give as much importance to these slight differences. It should be remembered that these cases were made on multiple production lines, and all finishing work and polishing was done by hand. When evaluating a watch for authenticity, I recommend looking at the overall elements of the watch.
Production of the second-generation НВЧ-30 ceased in the late 1980s. The exact date is unclear, but verifiable examples from 1988 have been found. By this time, the Soviet Union was much changed, and production quality at Chistopol Watch Factory was no longer on a par with that of the early 1970s.
The last batch of the НВЧ-30 (Models 119-630) used modified civilian cases in which the 18mm lug width had been machined out to 22mm to meet the military contract requirements. Many NOS examples can be seen with traces of this extra machining. Others show off-centered lug cutouts.
Generation 3: Model Type 320
The final incarnation of the НВЧ-30 is somewhat shrouded in mystery and misinformation. A passed-on first-hand account is virtually all there is to go on. According to this account, at some point between 1988–1990, a final batch of watches were ordered by the Soviet government. Production of the Case-Types 119 and 630 had already ceased, along with the outdated caliber 2209 movement.
Chistopol's third and final 300m watch used the new Case-Type 320 Amphibia with the more refined caliber 2409A movement. Vostok was at first either unwilling or incapable of producing the desired watch, but ultimately a compromise was made. The Type 320 case was (on some examples) slightly modified, with a larger 20mm lug width (as compared to the 18mm lug width on civilian examples). Consistent with earlier generations of the НВЧ-30, a thicker crystal and caseback were also used. Notable additions included a new style antimagnetic shield and the text "Antimagnetic" printed on the dial.
It is unknown how many of these watches were produced, or if they even made it into service. Among the few examples that exist, there is no known supporting documentation. The dissolution of the Soviet Union in 1991 and its ensuing chaos saw the end of the НВЧ-30.
Left, the final caseback style is identifiable by a flat-form "3" in the 300m stamped marking.
Middle, the 2409 movement and new antimagnetic shield.
Right, case types 320 and 470 as shown in the 1990 catalog.
Further Variations and Award Watches
During the 20-year production run of the НВЧ-30, periods of overlapping production can be identified. Service repairs were also common, when old parts were replaced with modern variations. Below, a first-generation НВЧ-30 can be seen outfitted with hands and a bezel from later, second-generation models.
Despite the fact that НВЧ-30 watches were government-owned property, there were some instances in which watches were awarded to individuals. In most cases, we can only speculate why (retirement gifts?). Other cases are better documented.
An awarded НВЧ-30, right, includes an inscribed caseback which reads:
From the commander of the Black Sea Navy USSR, for the sailor Kurbanov A.C. 1986.
The watch's owner is associated with the sinking of the cruise ship Admiral Nakhimov, below, after its collision with the bulk carrier Pyotr Vasev in the early hours of August 31, 1986. Kurbanov, a Naval diving engineer, took part in the rescue operation.
A first-generation НВЧ-30, left, is inscribed as follows:
To Lieutenant Colonel
Dehtyaryovu V. F.
Kupol-79
Tiksi Military Base 4511
This watch was dedicated to a Lieutenant Colonel at Base #45114, located in Tiksi, a small village on the northern Siberian coast.
NVCH-30 Legacy
The Nvch-30 was in many ways a typical product of the Soviet union: functional, utilitarian, owned by the State, and rigidly controlled in every respect. All aspects of the watch were developed for maximum utility, and each subsequent iteration of the watch improved the design to make it more sturdy, robust, or reliable.
Today, collectors seek these pieces for their historical merit, their military connection, and their simplistic beauty. Prices continue to climb for well-preserved or properly documented examples. The three generations of the НВЧ-30 also represent an ideal collector's item — a finite set. Rarer than the watches themselves are accompanying storage tins and paperwork, which also remain highly collectable, even as standalone items.
Only those who used these watches in the USSR can truly attest to their value as military-grade equipment. The rest of us can only speculate how it must have felt to receive and use such a small but important tool on a daily basis. Most likely, these watches faced an unglamorous life of hard use and abuse. It is unlikely that Soviet military personnel who were issued НВЧ-30's took the time to appreciate these watches for their attractive design or remarkable capabilities. And certainly, original owners could not predict the obsessive collector community who would, many decades later, meticulously dissect the smallest components of these pieces, go to great lengths in order to procure one, and treasure them for their beauty, rarity, and importance in Soviet watchmaking history.
Pictures used in this guide are for reference only. Most watches pictured are from my personal collection.
A big thank you to David Dekker, Ilya Saryzin, Oleksandr Gerasimenya, and Dashiell Stanford, without whom this guide would not have been possible.
If you have any information or corrections to add to this guide, or if you simply have questions to ask, please get in touch.
UK-based Soviet military watch collector.